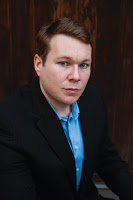 You may know Alan Higgs from his role in
The Marriage of Figaro
as Antonio, or his dual role in
La bohème
as Alcindoro and Benoit. This season, he will sing the iconic role of the Pirate King in Gilbert & Sullivan's classic operetta,
The Pirates of Penzance
. As part of the Studio Tour, Higgs will perform in front of hundreds of students in schools across Atlanta and the greater metropolitan area. We caught up with Alan to learn more about his background, how he gets into his pirate character, and to hear his advice for young, aspiring performers.
The Atlanta Opera: Did you grow up in an opera household?
Alan Higgs: I was very lucky as a child and my parents supported me
in everything that I wanted to do. I was always encouraged to follow my dreams.
I began singing in my church choir as a little one and it took off from there.
I joined chorus and did all of the school musicals from Elementary through High
School. It wasn't until I went to Interlochen Arts Academy, a boarding school
for arts students in Michigan for my senior year of high school that I was
introduced to the opera world. It was there that I did my first operetta,
Ruddigore, also by Gilbert and Sullivan. From then on I was hooked!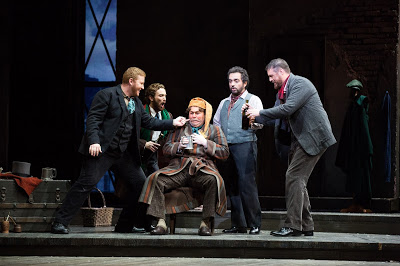 Higgs as Benoit in La bohème (Photo: Jeff Roffman)
How does the Studio Tour, which brings opera into schools, differ from your mainstage work?
The Studio Tour has a few differences from mainstage
work. First off they are much shorter productions. They usually run 45 minutes
to an hour depending on the production and age of the students. There is far
less pressure in a production for students then in mainstage work in my
opinion.
From my experiences, I have found that students are usually fascinated
by anything you do as long as you stay engaged and focus on the storytelling.
They aren't as concerned as much about whether your high note was perfect or if
you mess up. It's live theater mistakes are bound to happen once in awhile! Studio tours are usually also geared more towards the younger generation and
either picked because the plot is relevant to kids or is updated in a way that
they can relate to. For example, at Florida State University where I did my
Masters Degree, we did an updated version of L'elisir d'amore called
"Glee"lixir of Love. This was during a time that the show Glee was
very popular and they students were able to relate more to the show because of
the references to Glee that we used in our Studio Tour. it was a blast and was
very well received. For most of these kids it is one of the first times they
are seeing an opera production and I have found that they are just very appreciative
of the new musical experience.
I really think that the Studio tours are crucial
to the preservation of our art form. Reaching out to our youth and sparking a
new interest in them whether it is performing or just the enjoyment of watching
the productions will help secure a future for our art form.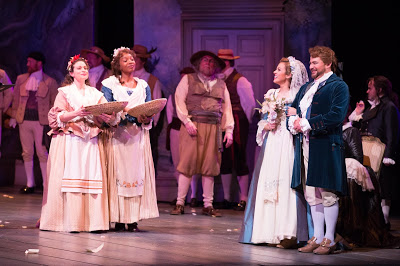 Higgs as Antonio (rear) in The Marriage of Figaro (Photo: Roffman)
The Pirate King is a fairly over the top role. How do you go about getting into that character?
The Pirate King is indeed a very "over the top"
role. While this type of role can be very challenging it can also end up being
one of the most fun. One of the best parts about singing opera for me is getting
to be someone totally different than myself. Getting into the character is a
huge process both physically and mentally. Development of a backstory for the
character, specific physicalities, character relations, and costumes and make
up are all a big part of the preparation.
What can an audience member expect from The Pirates of Penzance?
The audience can expect to laugh and enjoy a timeless
Gilbert and Sullivan work that has been entertaining audiences around the globe
for years and will continue to do so for years to come. The Atlanta Opera has put
together an All-Star cast of young professional singers residing here in our
city that are eager to showcase their talents in this brilliant piece! Of
course they can also expect a few ARGHH's in there as well. 😉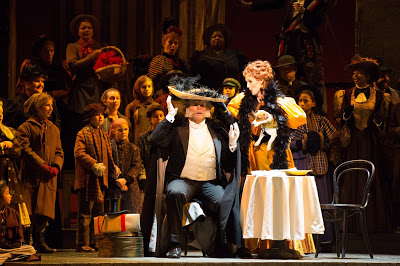 Higgs as Alcindoro in La boheme (Photo: Roffman)
Any advice for young kids and students who want to get into opera and theater?


My advice for kids wanting to get into opera and theater
is to go for it! Join a choir, take voice and acting lessons, take up a musical
instrument, audition for the school and community productions, basically do
everything you can to immerse yourself in the art form and see if this is
something you really enjoy doing. One thing I have learned is that natural
talent will only get you so far. You really have to be driven, work hard and be
passionate about music to succeed in this industry, and know that if one door
closes another right around the corner could be opening for you – so don't ever
give up!
Usage of any images on this blog is restricted to The Atlanta Opera and approved news websites. Any other usage, particularly for professional purposes, must have written permission. For additional information, please contact The Atlanta Opera at 404.881.8801.