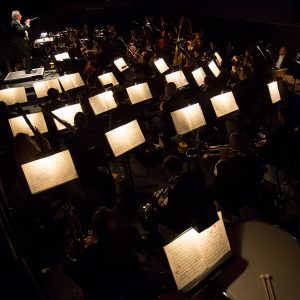 Richard Brady
Bass Trombone
Richard Brady has played bass trombone in The Atlanta Opera Orchestra for 32 years, and principal trombone for two seasons. He answered a few quickfire questions in our new Spotlight series for orchestra and chorus.
The Atlanta Opera: What is your favorite Atlanta Opera production
you've played?
Richard Brady: Ariadne auf Naxos by Strauss
AO: What do you do when you're not playing or practicing the trombone?
RB: This has changed as I have gotten older. Before: martial arts, flying (I am a licensed pilot), cave diving, rock climbing. Now: hiking, camping, astronomy, ham radio.
AO: Where did you grow up and how did you get into music?
RB: I am a native Atlantan. In the fourth grade I started playing with a Southwest Atlanta elementary band program called the West End Elementary Band. An amazing number of top brass and wind players came out of the program.
AO: Any advice for young musicians?
RB: Try to be professional about everything; practice until you can't get it wrong; practice until you are tired and add 10 minutes; get private instruction; listen to everything you can get your hands on.
AO: What genres of music and/or artists do you like?
RB: Oddly enough, I like pretty much everything. My favorites: Blood, Sweat & Tears; the Beatles; Earth, Wind & Fire; Johnny Cash; The Dear Hunter; Leah Partridge (she puts her whole being into her music).
AO: If you had to play any other instrument in the orchestra, what would it be?
RB: Cello. Other than the trombone, it is the closest to the human voice.
AO: What are your favorite musical moments in The Flying Dutchman, and what should audiences listen for in this opera?
RB: This is a stunning work. This will be the third production of this work I have performed in (including one production in Italy). My favorite moment is probably Act III, Scene 8 with the chorus. Always listen for the low brass!
AO: Overrated or underrated: "76 Trombones" from The Music Man.
RB: When performing in the musical — underrated. When performing out of context — overrated!