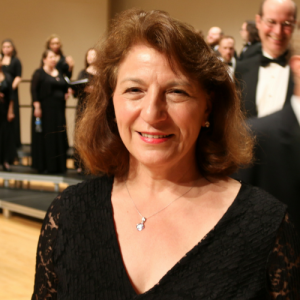 The Atlanta Opera: How long have you sung with The Atlanta Opera Chorus?
Lynnette Anderson: I've sung in The Atlanta Opera Chorus as a mezzo-soprano/alto since 1985, been in more than 80 productions, and have been featured in small ensembles in some productions.
AO: Where did you grow up and how did you get into music?
Lynnette: I grew up near Wheeling, W. Va., about an hour from Pittsburgh.
I can't remember a time when I was not singing. I sang solos in church at a young age, I took piano lessons starting in the fifth grade, and I sang in school choirs. I received my music degrees from West Virginia University. Everything has always revolved around music.
AO: What are your favorite musical moments in Sweeney Todd?
Lynnette: "The Ballad of Sweeney Todd," "Pirelli's Miracle Elixir" scene, "Not While I'm Around," and, of course, Mrs. Lovett's "A Little Priest."
AO: What is your all-time favorite Atlanta Opera moment?
Lynnette: I have several. The first time I stepped on the stage with the fabulous Atlanta Opera Chorus and Orchestra is a treasured moment. My first time singing the Moon Chorus, "Perchè tarda la Luna," from Turandot. Being in the production of Orfeo with David Daniels, and the 1996 Olympics program at Symphony Hall, to name a few.
AO: What should audiences listen for in this opera?
Lynnette: The various themes that represent each character that are intertwined throughout Sweeney Todd.
AO: What do you do when you're not singing?
Lynnette: When I first started singing in the chorus, I taught high school choral music, elementary music K-5, and sang as a staff singer in church choirs. I now help my husband with his production company and still sing in vocal groups around town. I love early music, so one of my goals is to become a virtuoso recorder player!
AO: Any advice for young singers?
Lynnette: The best advice I can give is from a quote by Gregory Hines: "Remember, luck is opportunity meeting up with preparation, so you must prepare yourself to be lucky."
AO: Besides classical, what other genres of music and/or artists do you like?
Lynnette: I like all kinds of music–a little jazz, bluegrass, and Broadway tunes. When I'm in my car, I turn on Siriusly Sinatra on SiriusXM radio and croon along with him while driving. I do have a bumper sticker on my car that says, "Caution Driver Singing."
AO: If you had to be another voice part, what would it be, and why?
Lynnette: Well, let's see:
Who has some of the best music?
Who usually dies near the end of the opera?
Who is the primary love interest?
Which vocal part is always in demand in opera or chorus?
Answer: a tenor!
AO: Overrated or underrated: meat pies?
Lynnette: Underrated. Like liver and onions, you can't get enough of Mrs. Lovett's meat pies.