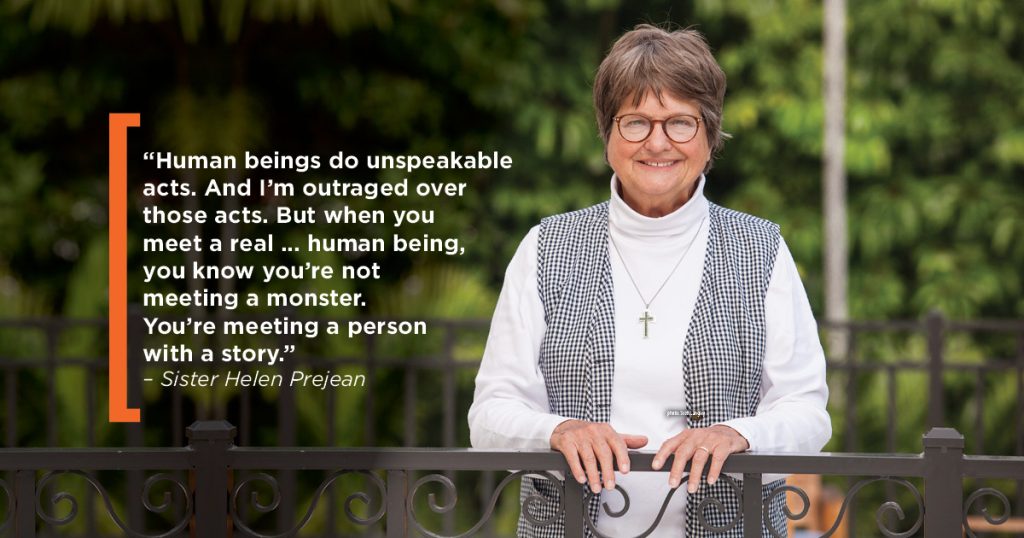 By Noel Morris
On Nov. 5, 1977, Patrick and Eddie Sonnier shot two teenagers in the head, three times each. Eddie was sentenced to life in prison; his older brother, Patrick, died in the electric chair. In 1982, in the months leading to his execution, Patrick began exchanging letters with Sister Helen Prejean of the Sisters of St. Joseph Medaille.
She became his spiritual adviser and walked with him to his execution in what proved to be a transformative experience for both of them. Afterward, she realized the story needed telling, and wrote the book Dead Man Walking: The Eyewitness Account of the Death Penalty. Her life would never be the same. The book became an international best-seller, and later a feature film with Sean Penn and Susan Sarandon. And Sister Helen began a crusade to end the death penalty.
That is not the object of this opera.
Jake Heggie's Dead Man Walking is an emotional tar pit. It doesn't tell you what to think, but it does transfix you in a place of dread, outrage, revulsion, and empathy. You're left with no easy way out. Whatever views you bring to the opera house, you likely won't be immune to the characters' anguish. And that's what makes Dead Man Walking a great piece of theater.
Part of its genius lies in its laser focus. Composer Heggie (Moby-Dick, Music of Remembrance)and Tony Award-winning librettist Terrance McNally don't take sidesteps. Audience members know the inmate, named Joseph De Rocher here, is guilty. They see that he's unrepentant.They don't see the electric chair (he dies by lethal injection in the opera).They do have to sit with the reality of a "human being who is being rendered defenseless and stripped of his humanity and walked across the room and killed," as the real-life Sister Helen has said.It's raw. But the opera goes "bigger and deeper than the question of the death penalty," according to the Louisiana-based nun. "It helps us journey into the deepest places of our hearts where we struggle with hurts and forgiveness, with guilt for our failings and the need for redemption."
A Reluctant Composer
Heggie grew up listening to big band and theater music. As a young man, he pursued a piano career but gave it up after injuring his hand. Although he composed music from age 11, he quit that, too, and worked in public relations at the San Francisco Opera. He wrote press releases and learned all aspects of the business: the singers, the managers, and the behind-the-scenes people.
A friendship with mezzo-soprano Frederica von Stade inspired him to write some songs in 1994. She liked them well enough to do them at recitals. Before long, some of opera's biggest names were singing Heggie's music. One day, SFO General Director Lofti Mansouri asked Heggie to stop by his office.
"I thought I was going to have to write another press release or a speech," Heggie told the San Francisco Chronicle. Instead, Mansouri asked him to fly to New York to discuss Dead Man Walking with McNally (Broadway's Master Class, Kiss of the Spider Woman).
"I went from being a writer in the PR department to being the first composer-in-residence of the San Francisco Opera," Heggie says with a grin.
The Story Goes On
Beyond the searing drama that unfolds onstage, Dead Man Walking is a story that continues to be written: Sister Helen still works as a spiritual leader, activist, and public speaker. She hosts an online network of volunteers that write letters to men and women in prison. She established a support group for the families of murder victims in her hometown of New Orleans.
And always, some people flock to her side, while others find it impossible to reconcile with her campaign against capital punishment. Whether you agree or disagree with her, it's hard not to like her. She is down-to-earth, and striking in her humanity. In Act I of the Dead Man Walking, this is best represented by a prayer offered just before her first meeting with de Rocher. It's simple. And unfathomable. And it wraps itself around the entire opera: "Help me, dearest Jesus. Make me strong. Make me wise. Make me human. Amen."