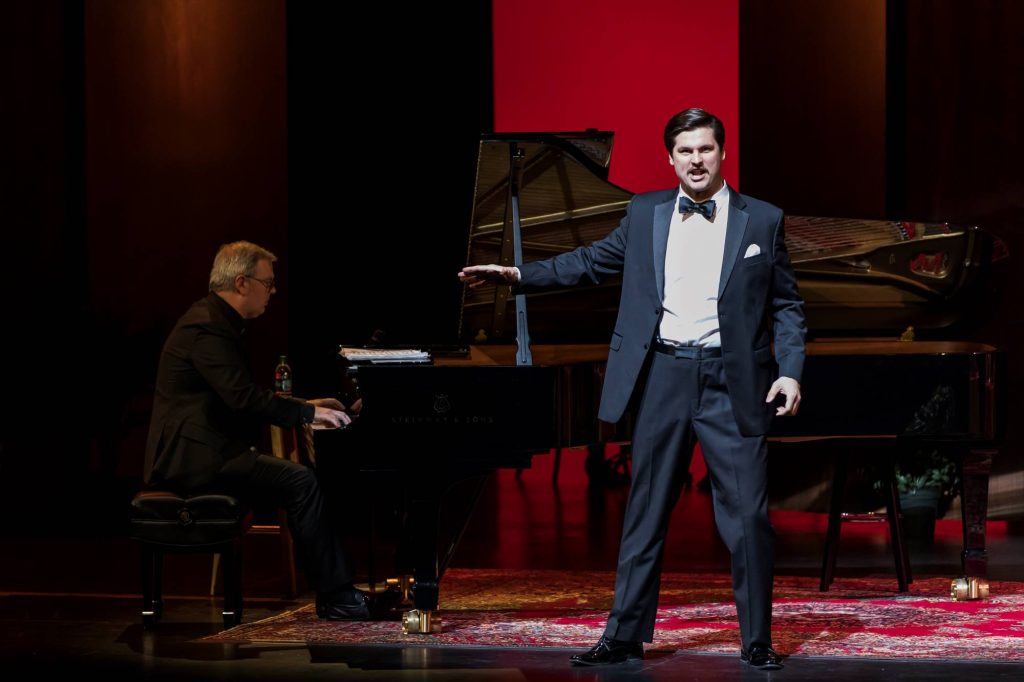 Originally from Dallas, Texas, baritone Jonathan Bryan will enter his second year as a Studio artist in the 2019-20 season. We caught up with him for #StudioSaturday to find out what he's looking forward to in 19-20, his favorite place for good eats in ATL, and his advice for Studio newbies.
What have you been up to this summer?
This summer, I'm returning to The Glimmerglass Festival for my second summer as a young artist with the company. I'm singing Baron Douphol in La traviata, covering Ravenal in Showboat, and (this is what I'm most excited about) I'm singing Beaumarchais in The Ghosts of Versailles. At this point, we've opened all the shows, and we're getting great reviews!
Any favorite places you've traveled recently?
I haven't been able to do much traveling since I'm on contract all summer, but I DID get to fly down to Houston for my little sister's wedding, and it was one of the happiest days of my life. The wedding was perfect, my sister couldn't stop smiling, and we all danced the night away.
You're going into your second year of The Atlanta Opera Studio. Tell us some of your favorite moments as a young artist last season.
Two different experiences stick out to me as favorite moments from last season. First, covering Michael Mayes in Dead Man Walking was an absolutely incredible experience. Not only is he the definitive Joseph De Rocher, but he's also the nicest guy I've ever covered. Not to mention, when he was out of town for another gig, I got to fill in and sing with what has to be the greatest cast ever assembled for that opera. Everyone was so kind, and I learned so much about what it means to be a professional. The other experience that sticks out is the Stephanie Blythe and Friends concert we put on in May. Stephanie has had a career that most singers can only dream of, and she has so much knowledge to pass on. I learned so much just sitting around during breaks and shooting the breeze with her. She has a talent for articulating ideas and tips that are so much more nuanced than what most people have to offer. She's a firecracker, and we all had so much fun making art with her.
When did you know you wanted to pursue a career in opera?
I didn't know I wanted to pursue a career in opera until my sophomore year of college. I was already a voice major, but had plans of going to graduate school for music business so that I could get into the record industry. In the fall of my sophomore year, I was put into the chorus of Rossini's La Cenerentola to complete one of my degree requirements. I had never heard voices move so fast, with such athleticism. The show was also hilarious, and it was the first time I realized that opera is so much more than stuffy, dated dramas and people dying of broken hearts. After witnessing the principals pull off vocal acrobatics that 20- year-old Jonathan could only dream of, while also leaving the crowd in stitches, I realized that I had so much more to learn about this art form, and so far to go in my pursuit of vocal mastery. That's when I knew I wanted to pursue this career, and it's why I'm so excited that The Atlanta Opera is presenting La Cenerentola this fall!
Which production are you most excited about in the 2019-20 season?
Out of all the productions on the docket this year for The Atlanta Opera, I'm most excited about Madama Butterfly. I just think it's one of the most beautiful scores in all of opera. I sang Sharpless in IU Opera Theater's 2016 production of Butterfly, and I am so incredibly excited to get to be in the room every day to hear these stellar professionals sing some of my favorite music of all time.
What are you hoping to learn or get better at this year?
This year, I'm hoping to continue to find the balance between vocal beauty and dramatic expression. I think that's what makes the great singers of our craft better than the rest: their ability to convey emotion and an intense connection to the text they're singing without sacrificing the beauty of their sound. As a young artist who's still trying to figure everything out, I sometimes feel like I'm either singing the most wonderful legato line without any emotional connection, or really committing to the emotion and just screaming. I KNOW there's a middle ground, and I WILL find it!
What advice would you give to young artists relocating to Atlanta?
My main advice to young artists moving to Atlanta is to bring a car and give yourself more time than you think you need to get to that gig. Traffic here is no joke! Also, engage with the other local singers. The musicians that call Atlanta home are an incredibly supportive group, and in a career that often asks you to be away from your loved ones for too long, they'll step in as your surrogate family.
What are your top three favorite places to eat, drink, and hang out in the city?
There is so much good food in this city, it's hard to pick a top three, but I think I can narrow it down. If I'm going to eat with a group, and we can't decide what we're hungry for, my favorite place to go is Ponce City Market. They have a little bit of everything, and it's all fantastic. Plus, you can buy a drink and walk the BeltLine after dinner. For a drink and a view, I like the rooftop bar at Six Feet Under in West Midtown. Great drinks, gulf oysters on the half shell (my favorite food), and a view of the entire Atlanta skyline. What more could you ask for? And finally, as a Texan, I'm very picky with my Mexican food, so I was relieved to find exquisite, authentic Tex-Mex at Nuevo Laredo, only five minutes from the Atlanta Opera offices. I recommend their enchiladas de pollo con mole. If a restaurant has good mole, you know they're legit.
Jonathan Bryan as Zaretsky in Eugene Onegin (2019)

Singing the role of Barone Douphol in La traviata (2019)

Performing the role of Motorcycle Cop (with Jamie Barton) in Dead Man Walking (2019)

Stephanie Blythe and Friends

Stephanie Blythe and Friends
To learn more about Jonathan Bryan, visit http://www.jonathanbryanbaritone.com/