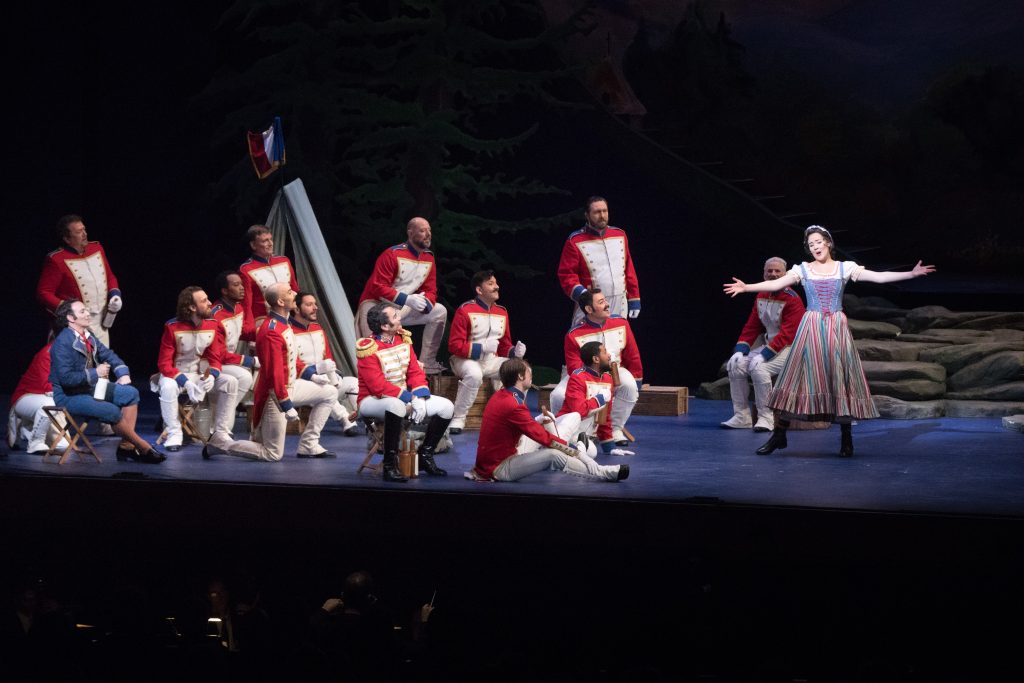 What year/season were you a member of the Atlanta Opera Studio?
2016-2018 seasons!
What made you want to audition for The Atlanta Opera? What pieces did you choose?
I wanted to audition for The Atlanta Opera initially because I had worked with Tomer years before and knew what interesting, extraordinary productions he puts on the stage. The caliber of singers that come to Atlanta is so inspiring, and I wanted to learn from and be a part of that. I had just graduated from Manhattan School of Music at the time, and when I saw the 2016-2017 lineup, I was very excited to audition with Norina's aria from Don Pasquale. Norina was my first role outside of academic engagements, so getting another crack at it with The Atlanta Opera was so thrilling for me. I covered the amazing Georgia Jarman and got to perform a student/family performance for that production!
Any favorite accomplishments from your time with The Atlanta Opera? Any particularly memorable lessons learned?
There are too many to mention here, so I'll try to be brief! As a young singer, it is so important to be around people that believe in and support you. I was so lucky to have that in Atlanta straight away. I was able to come into my own as an artist through the many opportunities I was given, because singers learn from being on stage and doing the thing! I learned even more from having to get up and do things that scared me or that I was unsure I was capable of. For instance, being in a cover situation with very scarce rehearsal time and jumping on stage to perform a role for the first time. I got to do that as Marie in La fille du régiment for the student/family performance. I really learned a lot about keeping my wits about me, multi-tasking, and singing on stage. The other standout learning experience was performing the role of Krysia in Jake Heggie's Out of Darkness: Two Remain. Being a part of the show was a turning point for me as an artist because it felt like a huge responsibility to portray such a courageous woman who survived Auschwitz, something I could never fathom. That challenge was fostered by the whole cast and team that by the end of it, felt like a family. I'll never forget that experience because, for me, opera is about telling important stories that need to be felt and understood. I believe we achieved that.
What have you been up to since your time with The Atlanta Opera?
The first year post resident artist life was hard work! I was living in NYC working and auditioning. I did a bit of traveling in Europe as well. I write to you now from the Glimmerglass Festival where I am singing Annina in Francesca Zambello's brilliant production of La traviata as well as the Opera Box Ghost in John Corigliano's The Ghosts of Versailles. After my performances in Atlanta this fall, I will be traveling with the cast and production to Versailles, France for more performances in December.
What are some differences between being part of a studio artist program and the professional world?
Since I am still pretty fresh into the scene of the professional world, I can answer this with just a small fraction of experience that I'm sure I'll have much more to speak to in a few years. I think I can speak more on the transitional time in my career as I grow into that next phase. A very real aspect of this time is budgeting your time and money in a very different way. I didn't have the luxury of Brian August (The Atlanta Opera's Production Stage Manager Extraordinaire) scheduling me for rehearsal times and voice lessons, not to mention the wonderful free coachings and lessons the opera provided me with. I had to consciously set aside my practice time and work to save my money for lessons. It's a balancing act when you're not on a contract, and despite the challenges that presents, this transitional time only reinforces my love for being an opera singer. Coming back to Atlanta to perform in Frida and La Cenerentola will actually be my professional debut! Stay tuned!
What's your favorite non-opera-related activity these days?
I love to be doing anything outdoors. Hiking, swimming, kayaking, camping, etc. Being out in nature is what grounds me, and I love living an active lifestyle. I also danced for fifteen years so if I'm not taking class, I'm usually doing it on my own. Dance was my first artistic outlet, so it brings me so much joy to return to it when I can.
What do you like to listen to when you're on the road?
I listen to probably every genre of music. My Spotify playlists are entirely confusing. I love Haitus Kaiyote right now, an Australian jazz-funk band.
What advice would you give to a young musician pursuing a career in opera or to current/future members of The Atlanta Opera Studio?
Any advice I give, I'm also giving to myself as a young singer. I would say in general to put the hard work in and focus on honing your own craft, not comparing your journey to anyone else's. Everyone has such a different experience in life, and we all come to opportunities as we are ready for them… I really believe that! My mother always told me, "the squeaky wheel gets the grease," and most of my successes have been results of just that…asking for what I need. I always asked the guest conductors and coaches who came to Atlanta if they had time to work with me. I learned so much just from not being afraid to ask for opportunities. The worst anyone can say is "no." Most people want to help and are happy to be asked. The most important advice I can give is to strive to be the kindest, best person you can be every day. Be someone everyone loves to collaborate with. The physical act of singing can be so different every day, but leading a life through love is steadfast.