Carl W. Knobloch, Jr. General & Artistic Director
Tomer Zvulun
General and Artistic Director of The Atlanta Opera since 2013, Tomer Zvulun is also one of opera's most exciting stage directors, earning consistent praise for his creative vision, often described as cinematic and fresh. His work has been presented by prestigious opera houses around the world, including The Metropolitan Opera, the opera companies of Seattle, San Diego, Dallas, Boston, Cleveland, Cincinnati, Pittsburgh, Buenos Aires, Wexford, New Orleans, Minnesota and Wolf Trap, as well as leading educational institutes and universities such as The Juilliard School, Indiana University, Boston University, and IVAI in Tel Aviv. His debut in New York was in a new production of L'heure espagnole and Gianni Schicchi at Juilliard Opera Center that was praised by The New York Times for its "witty, fast-paced staging…through a Felliniesque lens."
Champion of Innovation
Known for creating innovative, visually striking new interpretations for standard operas as well as championing new works by contemporary composers, his work has been seen internationally in Europe, South and Central America, Israel, and the US. Recently he created critically acclaimed new productions of Semele (Seattle Opera) Lucia di Lammermoor (Seattle, Atlanta, Cleveland), La bohème (Seattle, Pittsburgh, Cleveland, Atlanta), Lucrezia Borgia (Buenos Aires), Gianni Schicchi (Juilliard, IVAI Tel Aviv), L'heure espagnole (Juilliard), The Magic Flute (Cincinnati, Atlanta, Indiana University), Don Giovanni (Wolf Trap, Cincinnati), Die Fledermaus (Dallas, Kansas City), Falstaff (Wolf Trap, Des Moines), Rigoletto (Boston, Atlanta, Omaha), Madama Butterfly (Atlanta, Castleton Festival), Tosca (National Theatre Panama, Atlanta) and Dialogues of the Carmelites (IVAI Tel Aviv), among many others.
Passion for Modern Opera
His passion for producing new works by living composers was realized in the acclaimed European premiere of Kevin Puts' Silent Night at Wexford Festival Opera in 2014. The production won two Irish Times Awards and will be remounted at The Glimmerglass Festival and Washington National Opera.
In 2015-16 he created a new production of Soldier Songs (David T. Little) as a part of the award-winning Discoveries Series in Atlanta in a production that traveled to San Diego Opera. He then went on to create an acclaimed new production of Dead Man Walking that marked his return to New Orleans Opera. This was his second collaboration with composer Jake Heggie following his new production of Three Decembers at Boston University.
Some of his upcoming projects include the world premiere of the new opera Dinner at Eight (Bolcom) at Minnesota Opera, followed by the European premiere at Wexford Festival, new productions of Maria de Buenos Aires and Die Fliegende Holländer in Atlanta, a new Giulio Cesare for the Israeli Opera (Acco Festival), a new Eugene Onegin at Lyric Opera of Kansas City, and a revival of his acclaimed production of La bohème in Dallas.
Dynamic Expansion
Since taking the leadership in Atlanta he increased the operations of the company from 12 to 26 performances per season, while stabilizing the financials. Some of his noted achievements include launching the successful Discoveries Series, a program that presents new contemporary works and rarely done operas in alternative venues, creating the first young artist program in the company's history, and doubling the company's annual fundraising.
Awards & Recognition
His work at The Atlanta Opera earned the company an international reputation by earning numerous awards and prizes, including a nomination for the 2016 International Opera Awards in London, the selection of the acclaimed Discoveries Series in the Atlanta Journal-Constitution's Best of 2015 list, and his recent nomination for the 2016 Atlanta Luminary awards.
As a stage director, he made his debut in Atlanta with a critically acclaimed Der Fliegende Holländer in 2009, a production which led to a series of memorable new co-productions with sister opera companies including The Magic Flute, Lucia di Lammermoor, Madama Butterfly, Rigoletto, La bohème, and Romeo and Juliet.
Before the Atlanta Opera
During his 7 years at the Metropolitan Opera, Tomer directed revivals of Tosca and Carmen, and worked on a number of new productions, most notably La rondine, La traviata, La fille du régiment, Iphigénie en Tauride, and Manon. Tomer was born and raised in Israel, served as a medic in a combat unit in IDF, attended the Tel Aviv Open University and The Harvard Business School executive program.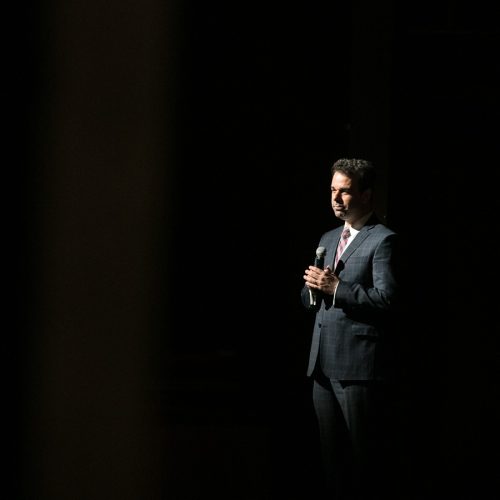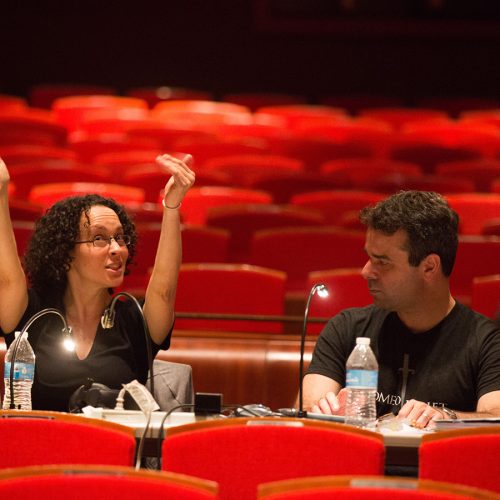 Carl & Sally Gable Music Director
Arthur Fagen
Arthur Fagen has been the Carl and Sally Gable music director at The Atlanta Opera since 2010, and continues to be in great demand as a conductor of symphony and opera both in Europe and the United States. He is a regular guest at the most prestigious opera houses, concert halls, and music festivals at home and abroad, and his career has been marked by a string of notable appearances including the Metropolitan Opera, Lyric Opera of Chicago, Staatsoper Berlin, Munich State Opera, Deutsche Oper Berlin, and the New York City Opera.
From 1998 to 2001, Fagen was invited regularly to be guest conductor at the Vienna State Opera. On the concert podium, Fagen has appeared with internationally renowned orchestras, including the Baltimore Symphony Orchestra, the Czech Philharmonic, Munich Radio Orchestra, Tokyo Philharmonic, Orchestre de la Suisse Romande, Deutsche Kammerphilharmonie, and the RAI Orchestras of Turin, Naples, Milan, and Rome. From 2002 to 2007, he was the music director of the Dortmund Philharmonic Orchestra and Opera. In 2008, Fagen was appointed as professor at Indiana University in Bloomington.
A former assistant of Christoph von Dohnanyi (Frankfurt Opera) and James Levine (Metropolitan Opera), he served as principal conductor in Kassel and Brunswick, as chief conductor of the Flanders Opera of Antwerp and Ghent, as music director of the Queens Symphony Orchestra, and as a member of the conducting staff of the Lyric Opera of Chicago.
Fagen was born in New York and studied with Laszlo Halasz, Max Rudolf (Curtis Institute) and Hans Swarowsky. Fagen has an opera repertoire of more than 75 works and has recorded for Naxos and BMG. The recent Naxos recording of Martinůs works was awarded Editor's Choice in the March 2010 issue of Gramophone Magazine.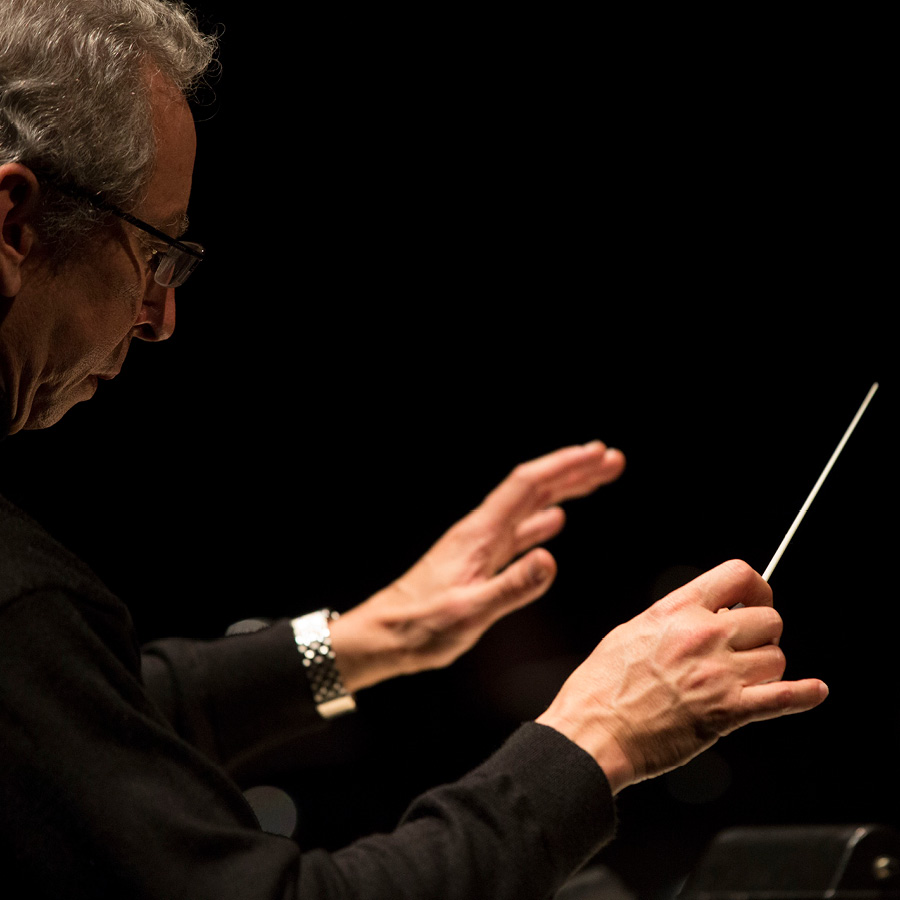 Chair, Mrs. Cathy Callaway Adams
Immediate Past Chair, Mr. William E. Tucker
Vice Chair, Mr. John L. Hammaker
Vice Chair, Mr. Rhys T. Wilson
Vice Chair, Mr. Charles "Charlie" R. Yates
Treasurer, Mr. Robert Dean
Secretary, Mr. Michael E. Paulhus
Mrs. Elizabeth Adler
Mr. Bryan H. Barnes
Mr. Dante Bellizzi
Mr. Montague L. Boyd, IV
Dr. Harold Brody
Mrs. Rosemary Kopel Brown
Mr. Frank Butterfield
Ms. Mary Calhoun
Mr. Mario Concha
Dr. Frank A. Critz
Ms. Martha Thompson Dinos
Mr. Robert G. Edge
Mr. Dieter Elsner
Dr. Donald J. Filip
Mr. Kevin Greiner
Mrs. Joanne Chesler Gross
Mr. Howard W. Hunter
Mr. Kevin Kelly
Mr. Alfred Kennedy, Jr.
Mr. Michael Keough
Mr. Andrew Long
Mr. James B. Miller
Mrs. Sandra S. Morelli
Mr. William E. Pennington
Mr. Herbert J. Rosenberg
Mr. Charles Sharbaugh
Mr. Timothy E. Sheehan
Mr. Alex Simmons, Jr.
Mr. William F. Snyder
Mrs. Christine St.Clare
Mr. G. Kimbrough Taylor, Jr.
Ms. Bunny Winter
Mrs. Nancy Carter Bland
The Very Reverend Samuel G. Candler
Mr. Carl I. Gable, Jr.
Mrs. Nancy Hall Green
Mrs. Mary B. James
Mr. Carter Joseph
Mrs. Emily Knobloch
Mr. George Levert
Mrs. Peggy McDowell
Mr. Harmon "Sandy" B. Miller, III
Mr. Bruce A. Roth
Mr. J. Barry Schrenk
Mr. Mark K. Taylor
Mr. Thomas R. Williams
Mr. Robert G. Woodward