Creative
Arthur Fagen
Conductor
Shoko Kambara
Scenic Designer
Amanda Seymour
Costume Designer
More Coming Soon
Composer: Gioachino Rossini
Librettist: Cesare Sterbini
Premiere Date: February 20, 1816, Teatro Argentina, Rome
"Figaro! Figaro! Figaro!"
Everyone's favorite barber pulls all the levels in this comedic romp featuring a fiery young girl, her lecherous old guardian, and a smitten young nobleman. It's all up to the wily Figaro to stay one step ahead of the shenanigans, and see to it that true love wins in the end. From the famous overture to its rapid-fire vocalism, this laugh-out-loud opera is a winner that works its charms on people of all ages.
Performed in Italian with English supertitles
Frequently Asked Questions
The original 2020-21 Mainstage and Discoveries series season will be moved in its entirety to 2021-22.
Is The Atlanta Opera planning performances for the 2020-21 season, now that you have postponed the originally scheduled season?
We'll be announcing our plans in the next couple of months. Safety is our number one priority, but we definitely are hoping to connect our patrons with out exciting new Company Players through innovative programming.
What do I need to do with my subscription for 2020-21?
We've moved your tickets automatically to 2021-22 at the Cobb Energy Centre. Your seats will the same and are held for you. If you would like to donate the value of those tickets or request a refund, click the button below to sign into your account and manage your tickets, or call 404-881-8885 and we will assist you. 
Is Madama Butterfly moving too?
Yes. Madama Butterfly is part of the Puccini festival. It has moved to fall of 2021. 
I haven't renewed my subscription yet for next season. Will my seats be held?
Yes. Your subscription seats will be held, and you can renew for the 2021-22 season during the spring of 2021. We will be in touch with all of our subscribers with updated information.
Who are the Atlanta Opera Company Players?
The Atlanta Opera announces the formation of the Atlanta Opera Company Players, featuring twelve world-class singers, all residents in Atlanta and the southeast, who will collaborate with the company's leadership team to reimagine its 2020–21 season. Drawing on the region's exceptional talent pool, and reflecting its vitality and diversity, these handpicked artists are sopranos Jasmine Habersham and Talise Trevigne; mezzos Jamie Barton, Daniela Mack and Megan Marino; tenors Alek Shrader and Richard Trey Smagur; baritones Michael Mayes and Reginald Smith Jr.; bass-baritone Ryan McKinny; and basses Kevin Burdette and Morris Robinson. Several already have strong ties to The Atlanta Opera, notably Barton, Mayes, Burdette and Robinson, who serve as the company's Artistic Advisory Council. To complete the Company Players, these twelve singers will be joined by this season's six emerging young members of The Atlanta Opera Studio Artists program. 
How will you ensure the safety of performers, staff and patrons as you work with the Company Players?
The safety and the well–being of our artists, staff, our audience is our very first priority. To that end, we have put together a new Health and Safety Advisory Council. Bringing together epidemiologists, public health specialists and doctors, including Dr. Carlos del Rio, Distinguished Professor of infectious disease at Emory University, and John Haupert, president and CEO of Grady Hospital and Vice Chair of Georgia's Department of Public Health, this team of experts will be on hand to advise us and observe safety, while complying with all the latest safety guidelines.
You can log into your account and manage your tickets online
If you have any questions regarding ticketing and the upcoming seasons, please call us at 404-881-8885. We are here to help you.
ACT I
Aided by his servant Fiorello and a troupe of musicians, Count Almaviva (under the assumed name of Lindoro) arrives early in the morning to serenade and hopefully have an assignation with a young girl he has recently seen. His song receives no response. Almaviva is about to depart when he unexpectedly encounters his former servant Figaro, the town barber. Figaro identifies the girl as Rosina, the ward of Dr. Bartolo. Rosina appears on the balcony with a letter for her unknown admirer. She is interrupted by Bartolo but manages to drop the letter off the balcony before he can snatch it from her. The letter requests that her suitor identify himself. Almaviva is frantic about meeting Rosina. Figaro, in his capacity as Bartolo's barber, offers to help the lovesick Count (for a promise of gold, of course). A regiment is due in town and Figaro suggests that Almaviva disguise himself as a drunken soldier and demand lodging in Bartolo's house.
Inside Bartolo's house, Rosina takes delight in her admirer's voice and resolves that Lindoro will be hers. Figaro manages to enter the house and visit Rosina, but their attempts to talk are frustrated by the appearance of Bartolo and Don Basilio, Rosina's music teacher, who brings news that Count Almaviva is in town incognito. Don Basilio suggests that slander would be the best way to ruin Count Almaviva, but the nervous Bartolo instead decides to have a marriage contract drawn up between himself and Rosina as soon as possible. The two men leave to organize the contract, and Figaro, who has heard their conversation from a hiding place, immediately informs Rosina of the danger.
As Rosina gives Figaro a note for her lover, Bartolo returns and accuses her of writing to an admirer. He threatens to lock her in, but she defies him. Almaviva, now disguised as a drunken army officer, arrives at the house demanding lodging. Bartolo indignantly claims that he has a certificate of exemption from housing the military, and, as he searches for it, Almaviva slips Rosina a note. Catching sight of this trickery, Bartolo orders Rosina to surrender the note, but she cunningly substitutes a laundry list. Almaviva becomes belligerent, threatening to fight Bartolo, and the whole house is in turmoil. Figaro enters attempting to calm them down. Soon the local militia arrives at the house to restore order, and Almaviva narrowly avoids arrest by secretly identifying himself to the officer in charge. Bartolo is left standing amidst all the activity, amazed and confused.
ACT II
Bartolo is sitting alone in his study when Almaviva enters in a new disguise. He is now Don Alonso, a music teacher sent to replace the ailing Don Basilio. Bartolo is suspicious, but to allay his fears, "Alonso" shows Bartolo a letter from Rosina to Count Almaviva, claiming that he found it in Almaviva's lodgings. Fooled again, Bartolo fetches Rosina for her lesson and listens as she performs an air proclaiming that love will surmount all obstacles.
Figaro arrives to shave Bartolo. Bartolo sends him to fetch a towel and Figaro takes this opportunity to steal the key to the balcony, smashing a pile of dishes in the process. This "accident" lures Bartolo away, allowing Figaro to slip the key to the disguised Almaviva. All is going according to plan when suddenly Don Basilio appears. It takes only a small bribe to persuade him to go home and take care of his "fever." As Figaro covers Bartolo with lather, the Count whispers the escape plans to Rosina during the singing lesson. Almaviva tells her that he and Figaro will come for her at midnight. Bartolo overhears them and accuses Almaviva, Figaro and Rosina of scheming against him. Once everyone has withdrawn, the maid, Berta, is left to reflect on the foolishness of lovers of all ages.
Don Basilio arrives and Bartolo soon discovers that Don Alonso was an imposter. Bartolo realizes that it is more urgent than ever to marry Rosina immediately, and Basilio hurries off in search of a notary to draw up the contract. Meanwhile, Bartolo attempts to make Rosina doubt her lover by producing the letter that she wrote to Lindoro, saying that it was found in Count Almaviva's lodgings. Clearly, he argues, Lindoro and Figaro are just hirelings for Count Almaviva. In distress, Rosina agrees to give up Lindoro and marry her guardian that very night.
A storm rages outside as Rosina and Bartolo retreat to their quarters. As it subsides, Figaro and Almaviva appear on the balcony, ready to escape with Rosina. Rosina is at first furious, but her anger quickly turns to delight when she finds out that Almaviva and Lindoro are one and the same. Figaro urges the lovers to make their escape quickly, but upon returning to the balcony, they find that their ladder is gone. At that moment, Don Basilio enters with the notary that Bartolo has hastily engaged. Bribed with a valuable ring and threatened with a gun to his head, Don Basilio is persuaded to act as a witness as the notary marries Almaviva and Rosina. Bartolo arrives with the civil guard but it is too late: the lovers have been wed. Almaviva placates Bartolo by allowing him to keep Rosina's dowry, and all express relief and joy at the happy outcome.
Courtesy of Boston Lyric Opera
Newbie Guide
The Opera Experience
Operas on our mainstage are grand theatrical experiences. You can always expect the unexpected, and for our productions to be presented at the highest quality.
Supertitles
Many operas are in a foreign language. Supertitles are similar to subtitles in a film, except they are projected above the stage. These translations will help you follow what's happening on stage.
What to Wear
There is no dress code at The Opera and you will see everything from jeans to evening gowns and formal suits. Most people use it as a chance to enjoy dressing up in their own style.
Arriving in Good Time
If you are late, you will be escorted to the nearest late seating area. At intermission ushers will show you to your seat. Plan ahead to arrive with extra time.
Enhance Your Visit
Mangia!
Our elegant three course dining at the Cobb Energy Center is seated on the mezzanine before every performance. Please make reservations 5 business days prior to the performance.
Pre-Performance Talk
Learn about the history of the opera and the composer with board member and opera aficionado, Carter Joseph. One hour prior to curtain. Free with your ticket!
Familiarizing Yourself with the Story
Because of the foreign languages, classical music, and often complex plots, you will very likely enjoy the performance better if you spend a few minutes familiarizing yourself with the story and characters in advance. Some people even like to listen to the music in advance and others prefer to let it wash over them during the show and perhaps look it up afterwards.
How is an Opera Staged?
Auditions
Actors first audition for roles up to a year in advance, or for more experienced artists, directors also invite them to play a role.
Rehearsals
Most of the rehearsals are held in our rehearsal hall, and not the actual theatre. The conductor begins orchestra rehearsals about a week and half before opening night. They have four rehearsals with the conductor, and then the singers are added into the mix.
Sets & Costumes
The Atlanta Opera Costume Shop alters the costumes to fit our singers. Sometimes they do have to make costumes if there aren't enough, or if there is nothing that fits, etc. Once the sets are in place, the cast begins rehearsing at the theatre. The Opera production staff works with staff at the theatre to get all of the lighting and technical aspects of the production together.
Sitzprobe & Dress Rehearsal
The orchestra comes together with the singers in a special rehearsal called sitzprobe. There are no costumes during the sitzprobe, this is mainly to hear the voices with the orchestra. There is a piano dress rehearsal, when the singers rehearse in full costume for the first time so they can get used to wearing them. Finally, all of the pieces are put together for two full dress rehearsals leading up to opening night.
Gioachino Rossini (1792-1868)
Gioacchino Rossini was born on February 29, 1792, in Pesaro, Italy. His father, Giuseppe, was the town trumpeter as well as a horn player in the local brass band. His mother, Anna, was a baker's daughter. They were both members of a traveling theatrical company, Giuseppe playing in the orchestra and Anna singing on stage. As a child, little Gioacchino studied singing and horn playing at home. At the age of twelve, the family settled in Bologna, Italy where he could pursue his musical studies to the fullest. He soon began to earn money as a chorus master, an accompanist and a singer, particularly in churches. His work in music was so impressive that at the age of fourteen he was awarded a great honor – he was elected a Fellow of the Academia Filarmonica. At age fifteen, he entered the conservatory where he pursued studies in composition, counterpoint, cello and piano. He was particularly interested in studying the music of Haydn and Mozart, and he imitated their orchestration and fluency. During his lifetime, Rossini was described as the "Italian Mozart", a compliment he must have thoroughly enjoyed because he considered Mozart his idol. Like Mozart's, Rossini's music has laughter, and he understood the human voice and its possibilities.
Read More
Rossini wrote his first opera in 1810, La Cambiale di Matrimonio (The Marriage Contract), at the age of eighteen. By his twenty-second birthday, he had several successes to his credit. By 1829, he produced thirty-six operas. From then until his death on November 13, 1868, he composed only nonoperatic music at sporadic intervals. La Cenerentola (Cinderella), Rossini's nineteenth opera, was composed in a remarkable twenty-four days before premiering in Rome on January 25, 1817. The original story of "Cinderella" had been written by Charles Perrault, a Frenchman who lived in the seventeenth century.
Before Rossini set this well-known fairy tale, the story had attracted at least three other composers. Rossini and his librettist, Jacopo Ferretti, made some surprising changes in Perrault's story. They decided to base their libretto on Charles-Guillaume Etienne's libretto for the opera Cendrillon (Cinderella) by Nicolas Isouard.
This opera based on the Cinderella story was first performed in Paris in 1810. Being a very practical man and unattracted to the supernatural, Rossini decided to remove all magic from the tale. He concentrated instead on the opposing qualities and characters of the leading figures in the story. Thus, there is no fairy godmother, no pumpkin coach, no horses and footmen made of mice, no midnight chiming bell, and above all, no glass slipper. Instead, it is the Prince's friend and tutor, Alidoro, who manipulates the plot so that Cinderella wins the Prince, and the glass slipper becomes a down to earth bracelet (one of a pair). Rossini retains the two ugly and selfcentered step-sisters, but the wicked step-mother becomes a step-father, whose character is more sympathetic but also somewhat bumbling. Originally, Rossini planned to call his opera by the original name given to its heroine, "Angelina", with the subtitle "The Triumph of Goodness", as if to emphasize the human rather than the magical quality of the work. While he decided to call the opera La Cenerentola, goodness still triumphed.
The work ends with one of the most beautiful and difficult arias ever written, in which Cinderella forgives her sisters for past wrongs, telling them she will not only be a sister to them but a friend to them as well. There are wonderful human insights in Rossini's operas. His ability to transform characters into people with whom the audience can relate is what he did quite well through his music. That is why the composer and his music, particularly his operas, are still celebrated today, more than two hundred years after his birth.
Used by permission of the Washington Opera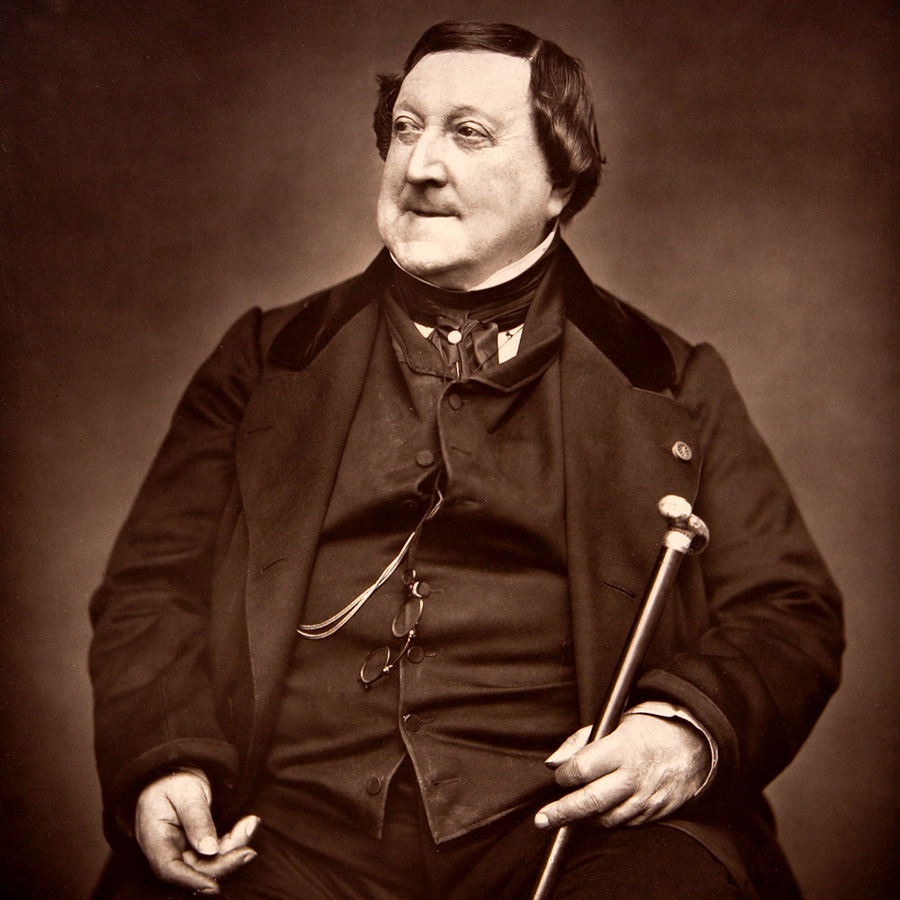 Arthur Fagen
Arthur Fagen has been the Carl and Sally Gable music director at The Atlanta Opera since 2010, and continues to be in great demand as a conductor of symphony and opera both in Europe and the United States. He is a regular guest at the most prestigious opera houses, concert halls, and music festivals at home and abroad, and his career has been marked by a string of notable appearances including the Metropolitan Opera, Lyric Opera of Chicago, Staatsoper Berlin, Munich State Opera, Deutsche Oper Berlin, and the New York City Opera.
A former assistant of Christoph von Dohnanyi (Frankfurt Opera) and James Levine (Metropolitan Opera), he served as principal conductor in Kassel and Brunswick, as chief conductor of the Flanders Opera of Antwerp and Ghent, as music director of the Queens Symphony Orchestra, and as a member of the conducting staff of the Lyric Opera of Chicago.
Fagen was born in New York and studied with Laszlo Halasz, Max Rudolf (Curtis Institute) and Hans Swarowsky. Fagen has an opera repertoire of more than 75 works and has recorded for Naxos and BMG. The recent Naxos recording of Martinůs works was awarded Editor's Choice in the March 2010 issue of Gramophone Magazine.