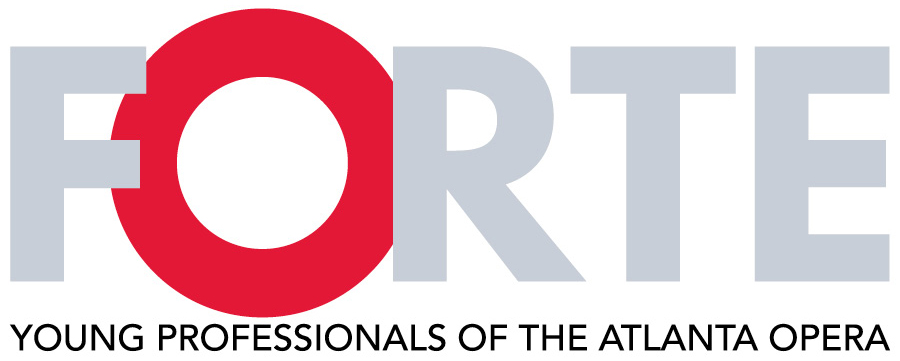 FORTE is The Atlanta Opera's community of young professionals, ages 21-45 that provides access to exclusive, social events and new connections. Whether you are an expert about opera or simply curious, join us throughout the season for pre-show cocktail hours, seasonal gatherings, and other unique perks.
A Forte Membership is only $275 and includes a ticket to all four mainstage performances in the season and access into the young professionals pre-opera cocktail hour. Memberships for our 2023-24 will will go on sale in September of 2023.
Membership Benefits:
1 ticket to each mainstage performance
Access into the Opera's Night Out pre-opera cocktail hour
An annual Film Studio pass
10% off at Shop Opera
Not sure about the membership? Give Forte a try with a $75 Forte ticket for one mainstage performance.
What is the required age range?
Forte Friday tickets are available for individuals age 21-45.
Do I get to pick my seats?
Because of the reduced ticket price plus other great perks, you do not get to choose your location – but we promise to give you a great seat!
Can I buy more than one ticket?
Of course! The more the merrier.
Can I sit with my friends?
To be seated together, please purchase tickets together in one order.
How will I get my tickets?
No tickets will be mailed. Your performance ticket(s) will be emailed to you 24 hours prior to the performance and your name will be on the list at the check in for the pre-show cocktail hour. 
What are the details about the cocktail hour?
The cocktail hours begin one hour prior to mainstage productions. Once you enter the Cobb Energy Performing Arts Centre, there will be signs to direct to the Forte Friday event. 
Is there a dress code?
There is no specific dress code to attend the opera. Wear whatever is comfortable!
For questions and information, please contact:
Ticketing Services
tickets@atlantaopera.org
404-881-8885
A First Timer's Guide
The Opera Experience
Operas on our mainstage are grand theatrical experiences. You can always expect the unexpected, and for our productions to be presented at the highest quality.
Supertitles
Many operas are in a foreign language. Supertitles are similar to subtitles in a film, except they are projected above the stage. These translations will help you follow what's happening on stage.
What to Wear
There is no dress code at The Opera and you will see everything from jeans to evening gowns and formal suits. Most people use it as a chance to enjoy dressing up in their own style.
Arriving in Good Time
If you are late, you will be escorted to the nearest late seating area. At intermission ushers will show you to your seat. Plan ahead to arrive with extra time.
Enhance Your Visit
Pre-Performance Talk
Learn about the history of the opera, the composer, and more from artists and opera aficionados. One hour prior to curtain. Free with your ticket!
Familiarizing Yourself with the Story
Because of the foreign languages, classical music, and often complex plots, you will very likely enjoy the performance better if you spend a few minutes familiarizing yourself with the story and characters in advance. Some people even like to listen to the music in advance and others prefer to let it wash over them during the show and perhaps look it up afterwards.
How is an Opera Staged?
Auditions
Actors first audition for roles up to a year in advance, or for more experienced artists, directors also invite them to play a role.
Rehearsals
Most of the rehearsals are held in our rehearsal hall, and not the actual theatre. The conductor begins orchestra rehearsals about a week and half before opening night. They have four rehearsals with the conductor, and then the singers are added into the mix.
Sets & Costumes
The Atlanta Opera Costume Shop alters the costumes to fit our singers. Sometimes they do have to make costumes if there aren't enough, or if there is nothing that fits, etc. Once the sets are in place, the cast begins rehearsing at the theatre. The Opera production staff works with staff at the theatre to get all of the lighting and technical aspects of the production together.
Sitzprobe & Dress Rehearsal
The orchestra comes together with the singers in a special rehearsal called sitzprobe. There are no costumes during the sitzprobe, this is mainly to hear the voices with the orchestra. There is a piano dress rehearsal, when the singers rehearse in full costume for the first time so they can get used to wearing them. Finally, all of the pieces are put together for two full dress rehearsals leading up to opening night.