Education & Community Engagement
Mission
A core mission of The Atlanta Opera is to provide opportunities for students of all ages – we believe opera is for everyone and we are committed to ensuring that the art form is available to the widest possible cross-section of our community. Each year, our education programs serve more than 37,000 students in Metro Atlanta and throughout the state of Georgia. Our programs seek to inspire creativity, stimulate critical conversations, promote an enduring appreciation of the arts, and create audiences for the future.
Program Overview
IN-SCHOOL  & VIRTUAL OFFERINGS
Bring The Atlanta Opera to your school or community venue

FIELD TRIPS & STUDENT TICKETS AT THE COBB ENERGY PERFORMING ARTS CENTRE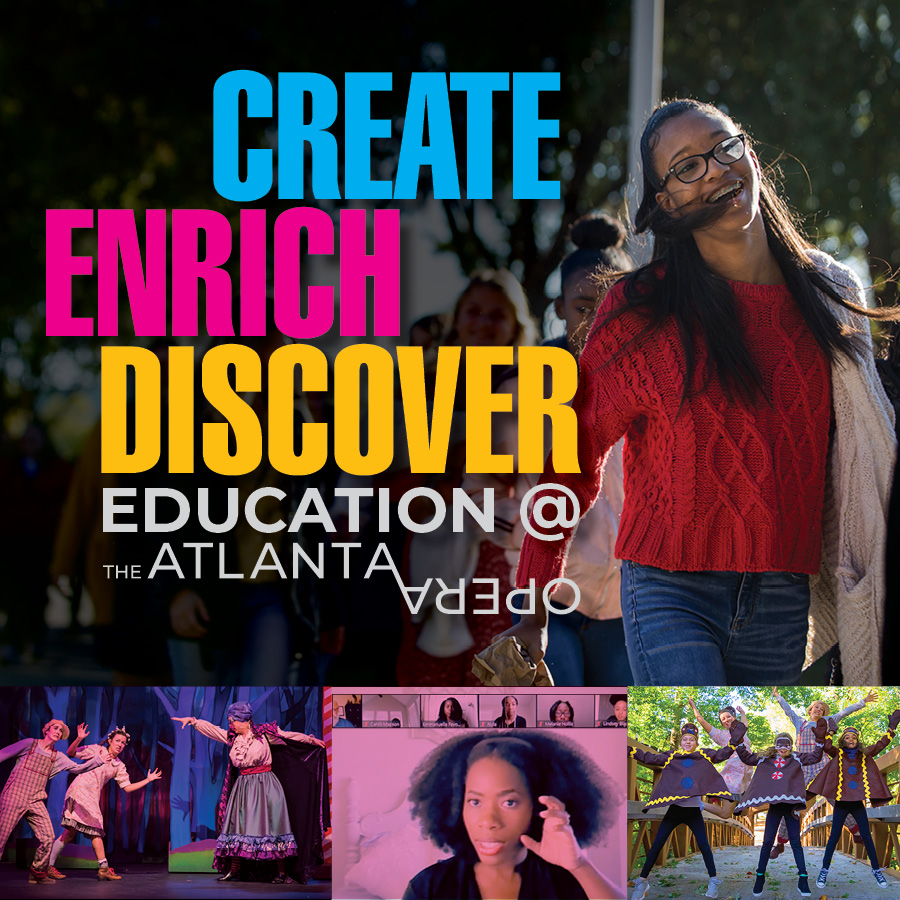 2022-23 Hansel & Gretel Studio Tour
Grades K-12 | On Tour January – May 2023
Running Time: 45 minutes, followed by a 5-minute Q&A with the performers
Designed to travel, Studio Tour productions are presented in schools and community venues across the state of Georgia each season. Educators are provided with comprehensive guides which feature lesson plans and activities corresponding to the Georgia Standards of Excellence.
This season's STUDIO TOUR features a new adaptation of Humperdinck's enchanting take on the Brothers Grimm fairy tale Hansel and Gretel. Suitable for all ages, Hansel and Gretel brings audiences on an adventure through a magic world filled with mystical forest animals, a captivating Sandman, and lots of sweets!
This updated 45-minute English version of Humperdinck's classic opera, teaches valuable lessons about being polite, making friends, and not judging a Witch by her wardrobe.
2022-23 The Pirates of Penzance Virtual Studio Tour
Grades K-12 | On-demand Access
Running Time: 40 minutes, followed by a 5-minute Q&A with the performers
Our VIRTUAL STUDIO TOUR brings to life Gilbert and Sullivan's most popular operettas, The Pirates of Penzance, as a special 40-minute film for students!
Frederic, apprenticed to a band of tender-hearted pirates, leaves his cohorts on his 21st birthday and falls instantly in love with Mabel, the daughter of a modern Major-General. Their fate is tested through an adventure of hilarious hijinks and tongue-twisting patter songs, as romance blossoms, loyalty is put to the test, and mistakes are forgiven.
The Virtual Studio Tour is accessible for all audiences. Watch when and where you want with easy online access!"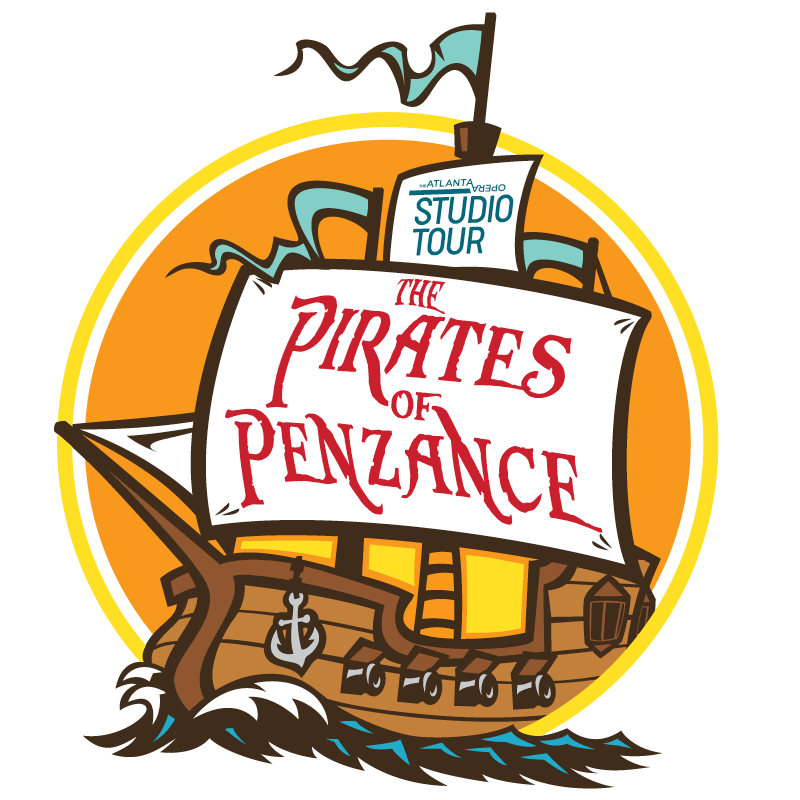 Bring The Atlanta Opera into your classroom with our in-person and virtual workshops! Custom workshops and masterclasses offered in-person or via teacher's preferred online platform. Taught by teaching artists and staff, suggested topics include Introduction to Opera, Operatic Voice Types, History of Opera, and Careers in the Arts, Lighting Design and Props. Additional programs include Opera Storytime for young learners and Masterclasses with The Atlanta Opera Studio Artists.
Contact education@atlantaopera.org to find out more about how these interactive programs can be customized to your needs.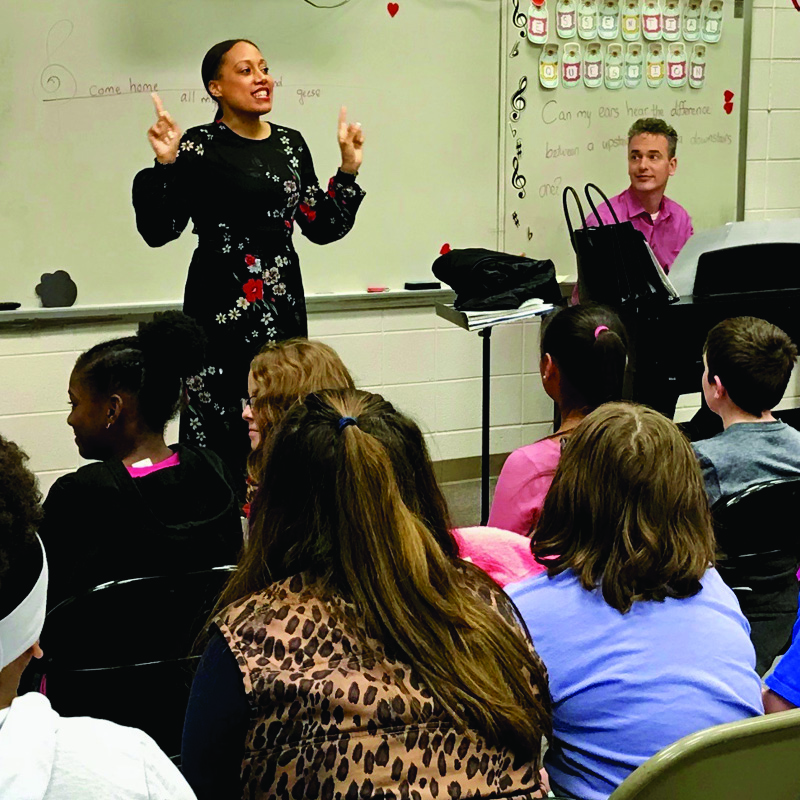 Designed specifically to heighten the art of vocal music, masterclasses bring professional artists to work with students on solo or ensemble repertoire, musicality, diction, and interpretation.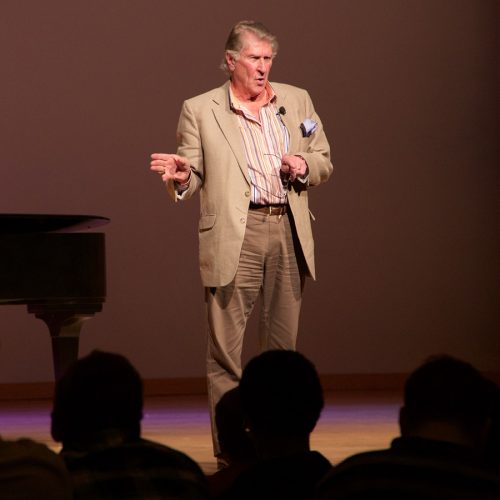 Community Conversation: Dementia, Memory & Caretaking
Thursday, September 29, 2022 at 7 p.m.
Kennesaw State University, Wellstar College, Prillaman Hall HS1105 | 520 Parliament Garden Way NW, Kennesaw, GA 30144
FREE
October's Bluebeard's Castle focuses on the character Judith's struggle with dementia. In this community conversation, the creators of this gripping adaptation discuss why they chose to delve into the topic of memory and caretaking. WellStar College Faculty and artists from the production join the panel to explore the emotional impact.
VISITOR PARKING: Guests for this event may park in Lot D as well as the Central Deck if needed. Take care to avoid faculty/staff spaces. Park on the 3rd floor and exit on Owl Drive to get to Prillaman Hall.
If you are unable to join us in person, The Atlanta Opera Film Studio is pleased to offer this Community Conversation as a live stream event on Facebook. Watch along on our Facebook page beginning at 7:00pm on Thursday.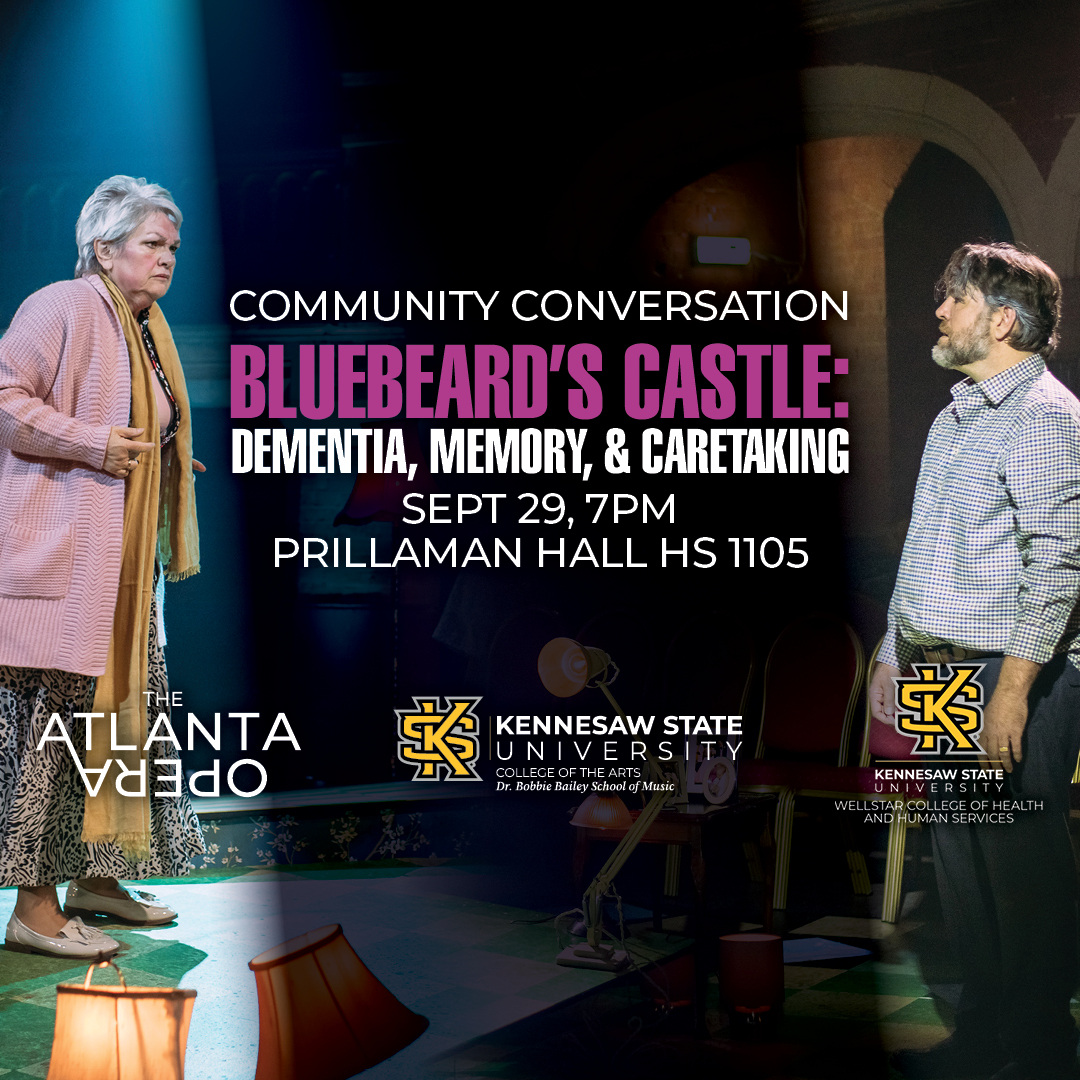 Community Conversation: Madama Butterfly – A Modern Interpretation
Tuesday, October 25, 2022 at 7pm
Offices of Baker Donelson | 3414 Peachtree Rd NE Suite 1500, Atlanta, GA 30326
FREE – Registation is required 
Giacomo Puccini's Madama Butterfly is undergoing a fascinating metamorphosis. The work is beloved by many but also faces challenges as it changes to be more inclusive and thoughtful in our modern world. A partnership with the Japan America Society of Georgia, during this Community Conversation artists from The Atlanta Opera production discuss the challenges with Asian and Asian-American stereotypes in the piece and offer food for thought to audience members who may be grappling with these issues for the first time.
Moderator: Jessica Kennett Cork, Vice President, Community Engagement and Corporate Communications at YKK Corporation of America | Chair, Japan-America Society of GeorgiaYasko Sato, soprano | Cio-Cio-SanNina Yoshida Nelsen, mezzo-soprano | SuzukiJulius Ahn, tenor | Goro
Panelist: Tomer Zvulun, Stage Director | General & Artistic Director, The Atlanta Opera
More information and FREE registration: https://www.jasgeorgia.org/event-4995194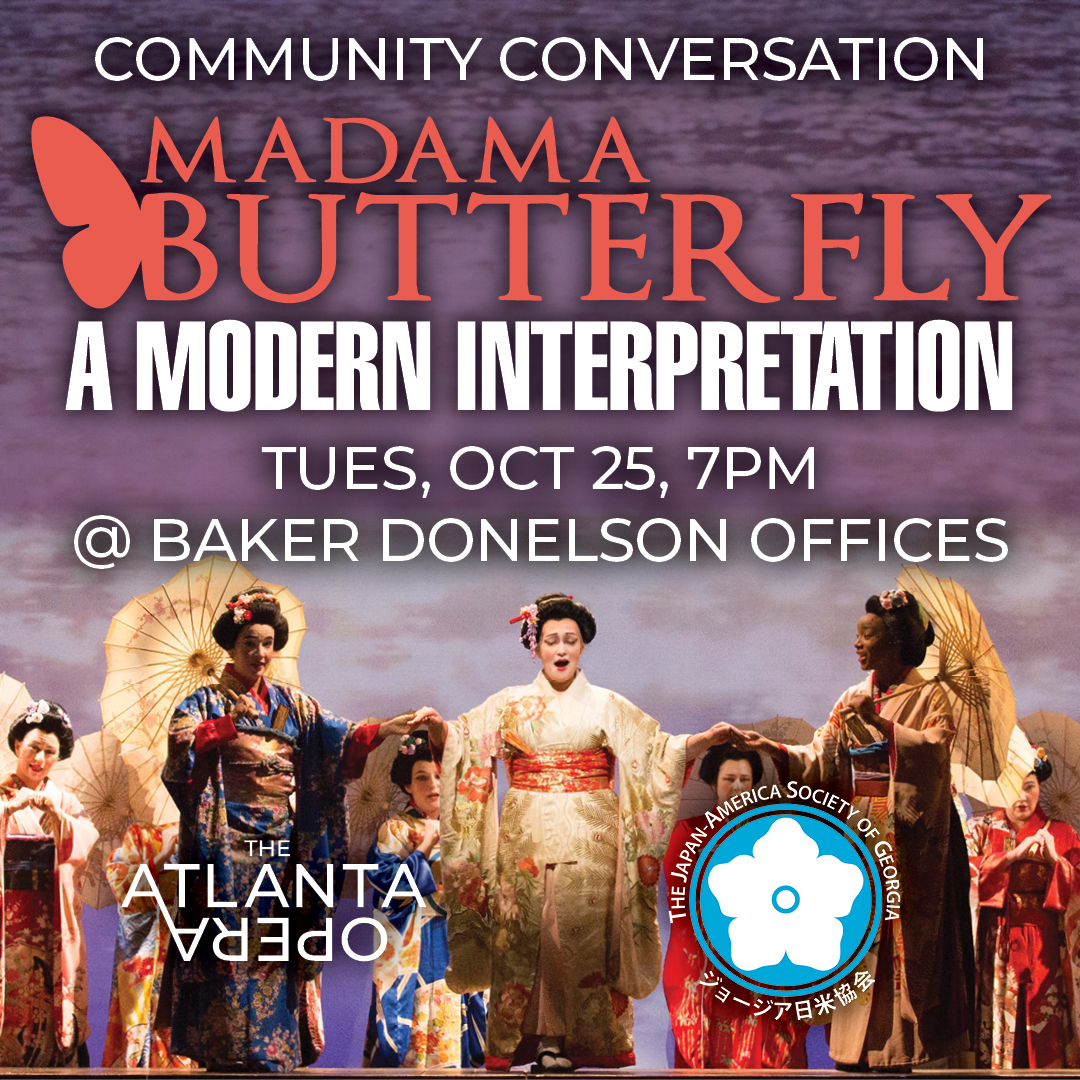 Final Dress Rehearsal Program
Final Dress Rehearsal Program
Grades 5 – 12 | Field Trip Opportunity
Free  |  Advance registration required  |  Limited tickets available
The Atlanta Opera invites you to experience our Final Dress Rehearsal program! This FREE program gives educators and students an opportunity to engage with in-person operatic performances. This program is designed for students in grades 5-12 and showcases a full-length opera with sets, costumes, and orchestra.
2022-23 FINAL DRESS REHEARSALS: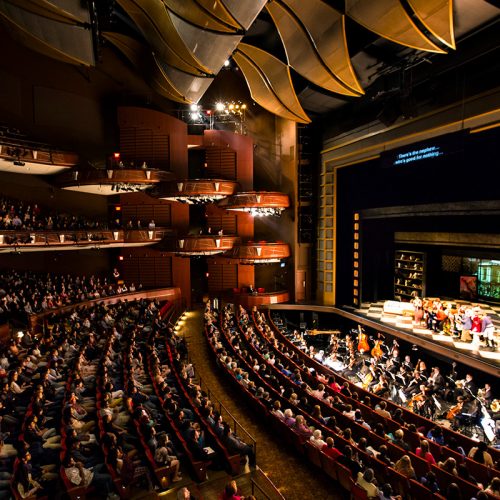 For more information on any of these programs, please call 404-881-8801.