Cast
Curt Olds
Major-General Stanley
Craig Irvin
The Pirate King
Santiago Ballerini
Frederic
Susanne Burgess
Mabel
Katharine Goeldner
Ruth
Creative
Francesco Milioto
Conductor
Seán Curran
Stage Director
James Schuette
Set & Costume Designer
Composer: Arthur Sullivan
Librettist: William S. Gilbert
Premiere Date: December 31, 1879, Fifth Avenue Theatre, New York City
As Frederic enters the rank of full pirate at the end of his apprenticeship, he and his fellow pirates court the daughters of Major-General Stanley. This sets off a hilarious course of riotous events that pit Frederic against his pirate clan. The Pirates of Penzance is a rollicking show with serious operatic chops.
Performed in English with English supertitles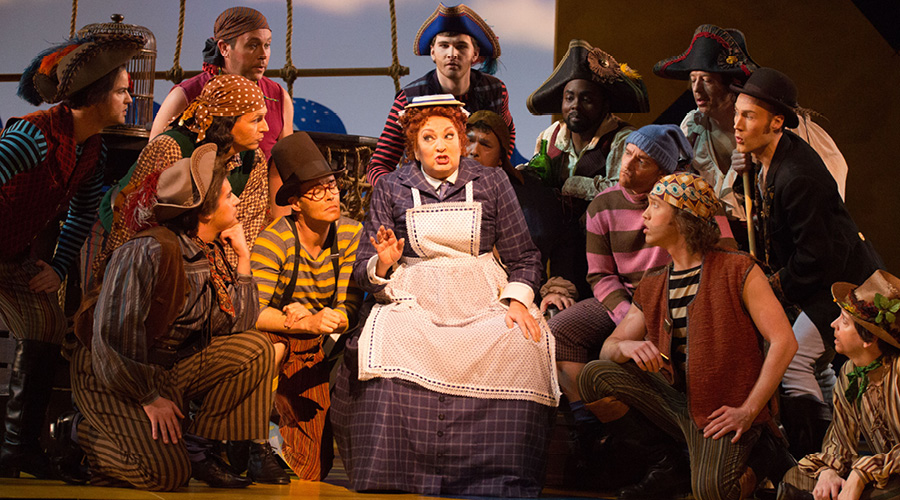 ACT I
Off the coast of England, Frederic, a young man of 21, celebrates the end of his apprenticeship to a band of pirates. Their maid Ruth tells Frederic that when he was an infant, his father requested he be apprenticed to a pilot, but she misheard and brought him to the pirates.
Read More
Now that he is no longer a Pirate Apprentice, Frederic believes the Pirate way of life is wicked, and that the crew should consider a respectable lifestyle. Frederic also points out that they are terrible pirates who refuse to harm those who claim to be orphans. The Pirate King claims piracy is comparatively honest to a respectable lifestyle.
Frederic prepares to leave the pirate ship and Ruth begs him to take her with him and marry her. Though he is reluctant to marry her, he agrees and they depart. On the beach, they stumble upon a group of beautiful young women. Upon seeing them, Frederic angrily denounces Ruth for leading him to believe that she is beautiful.
Frederic asks the girls to help him reform from his pirate life.. All reject him except Mabel. She offers Frederic her pity and the two quickly fall in love.
The pirates return to storm the beach and capture the girls, intending to marry them.
Mabel's father, the Major-General enters and objects to the girls being married against their wills. To save them he claims to be an orphan. The Pirates are sympathetic, being orphans themselves, and release the Major-General and the girls.
ACT II

At the Major-General's estate, he laments his lie, afraid that he has brought shame upon the family. The girls try to comfort him. As they do, the Police Sergeant arrives and tells them that with Frederic's help, he is prepared to arrest the pirates.
Frederic considers this an opportunity to atone for a life of piracy. The Pirate King and Ruth enter and inform Frederic that he was to be apprenticed until his 21st birthday and, as he was born in a leap year on February 29th, he is actually only 5 years old. The Pirate King insists that Frederic honor his sense of duty and return to the pirates. Upon realizing this, Frederic tells the Pirate King of the impending attack.
Before leaving Frederic meets with Mabel to tell her he is actually only 5 years old. They agree to be faithful to each other until Frederic returns. Mabel tells the police that they will have to face the Pirates alone, not knowing the Pirates are planning an attack of their own.
At the Major-General's estate, the Pirates attack the house. The police leap to defend the Major-General, but are easily subdued. The Sergeant begs them not to kill them in the name of Queen Victoria. Ruth reveals that the pirates are in fact nobility. The pirates free the Major-General out of their sense of loyalty to the Queen. The Major-General, happy to have the girls wed noblemen, offers the pirates their hands in marriage as thanks and everyone celebrates the approaching weddings.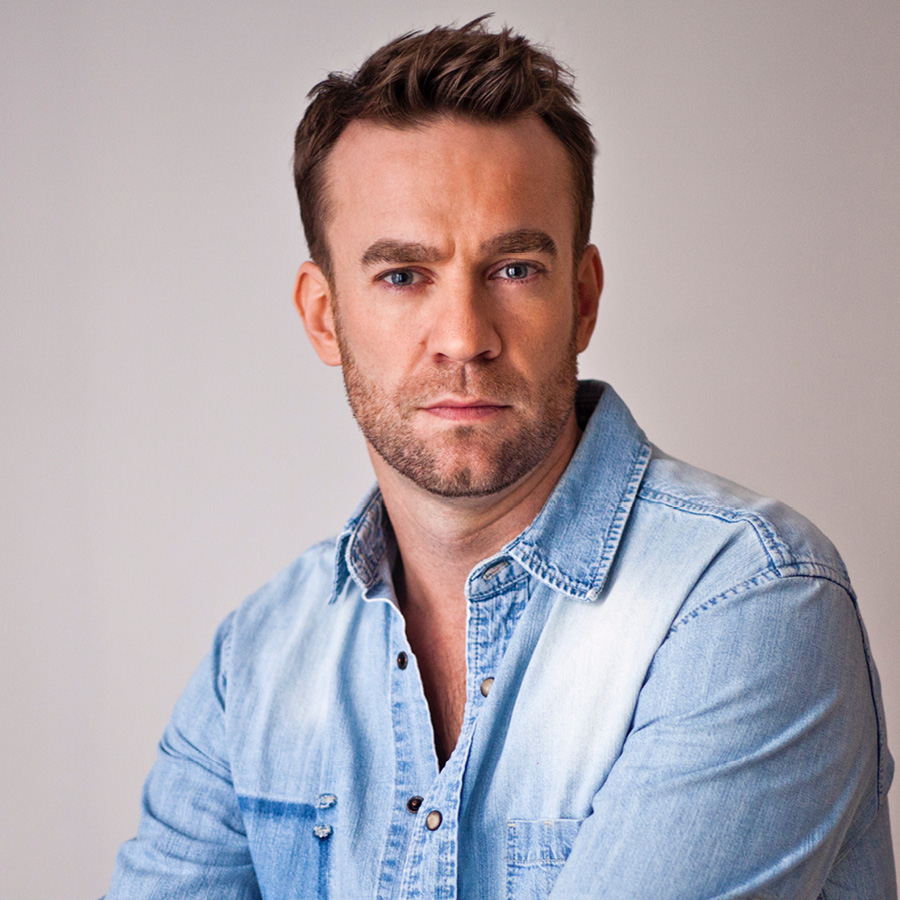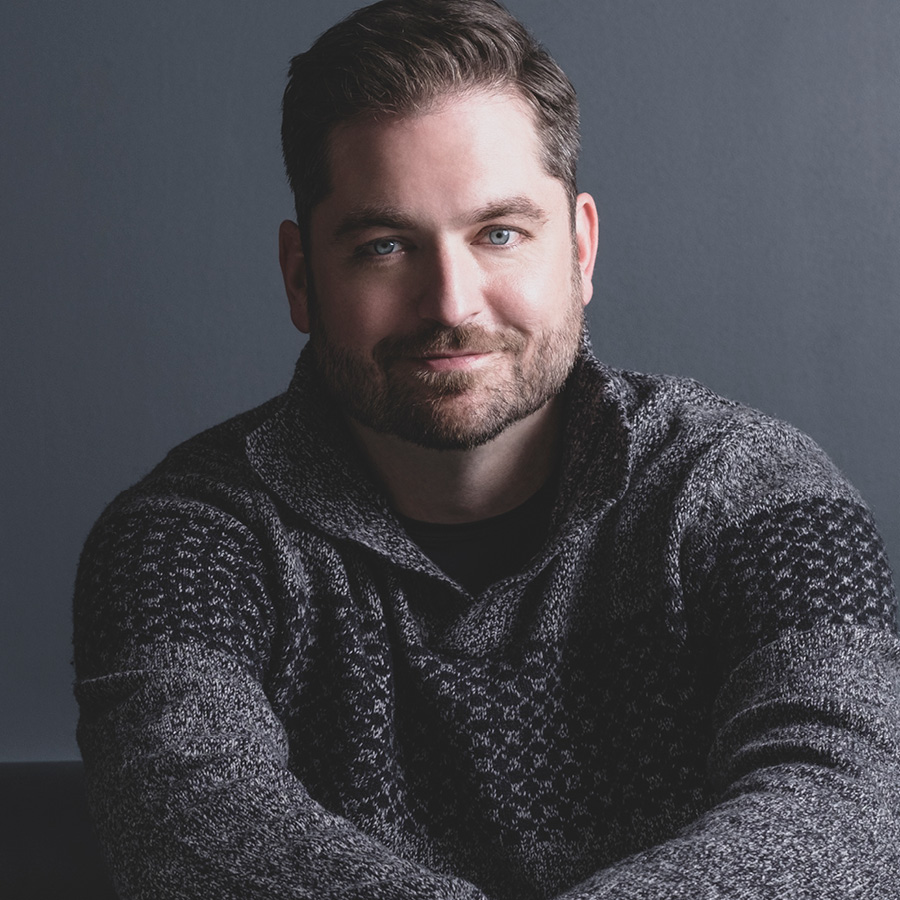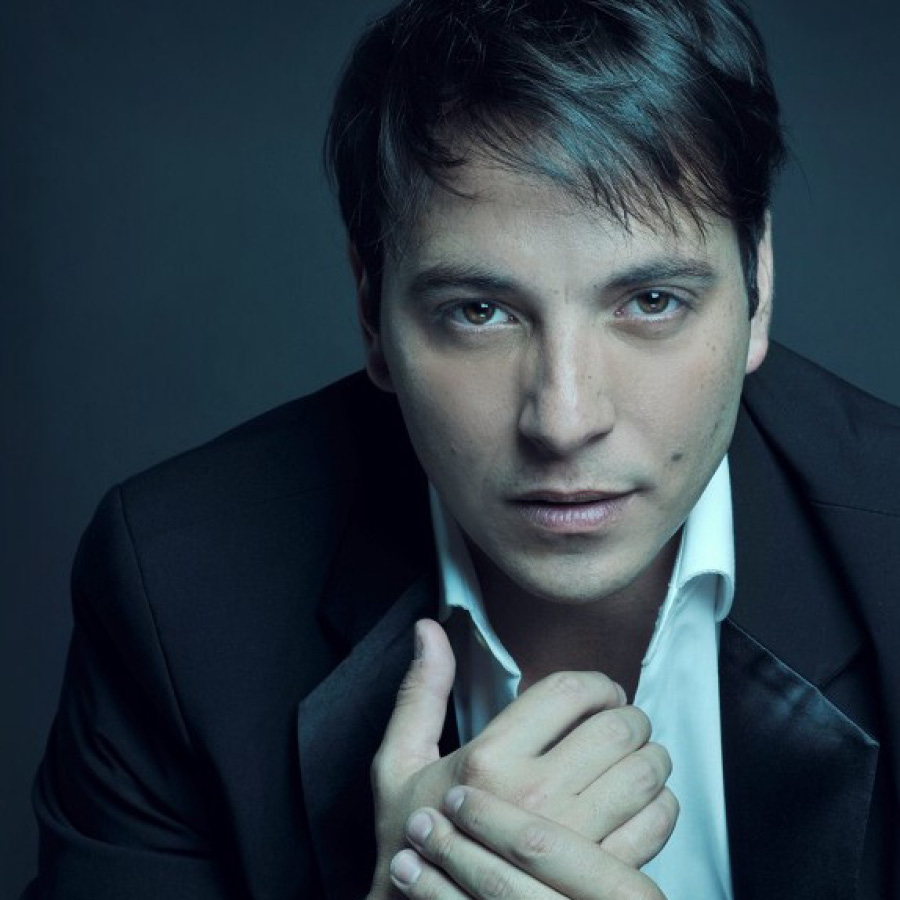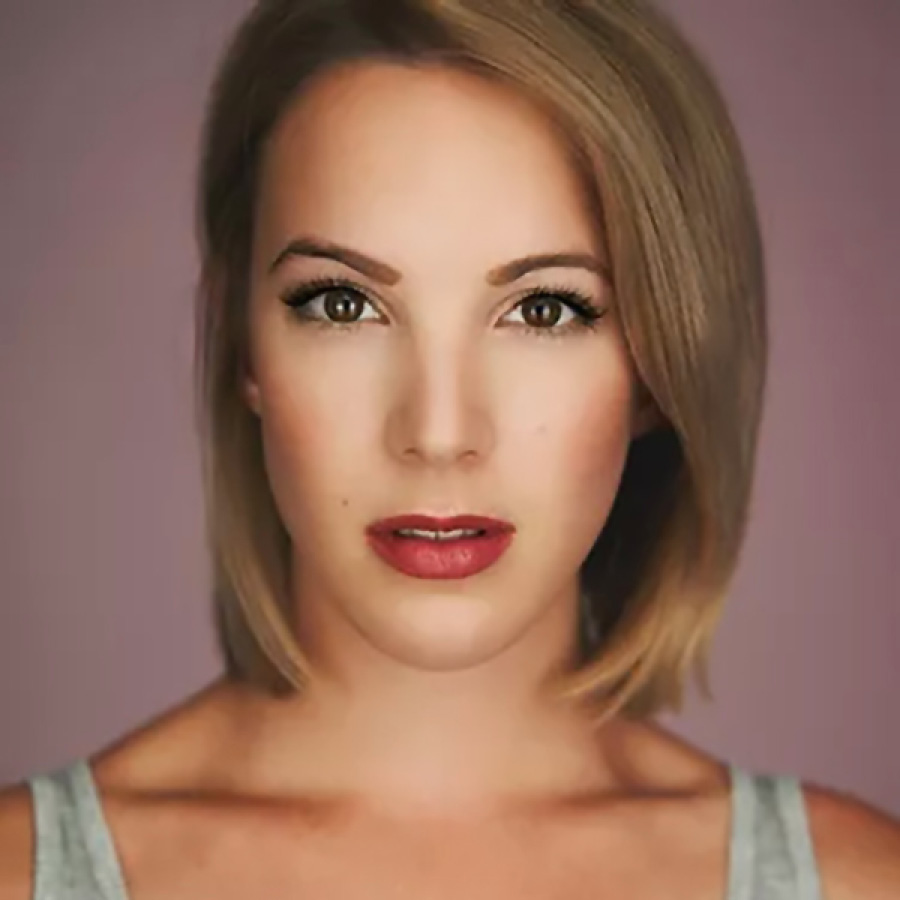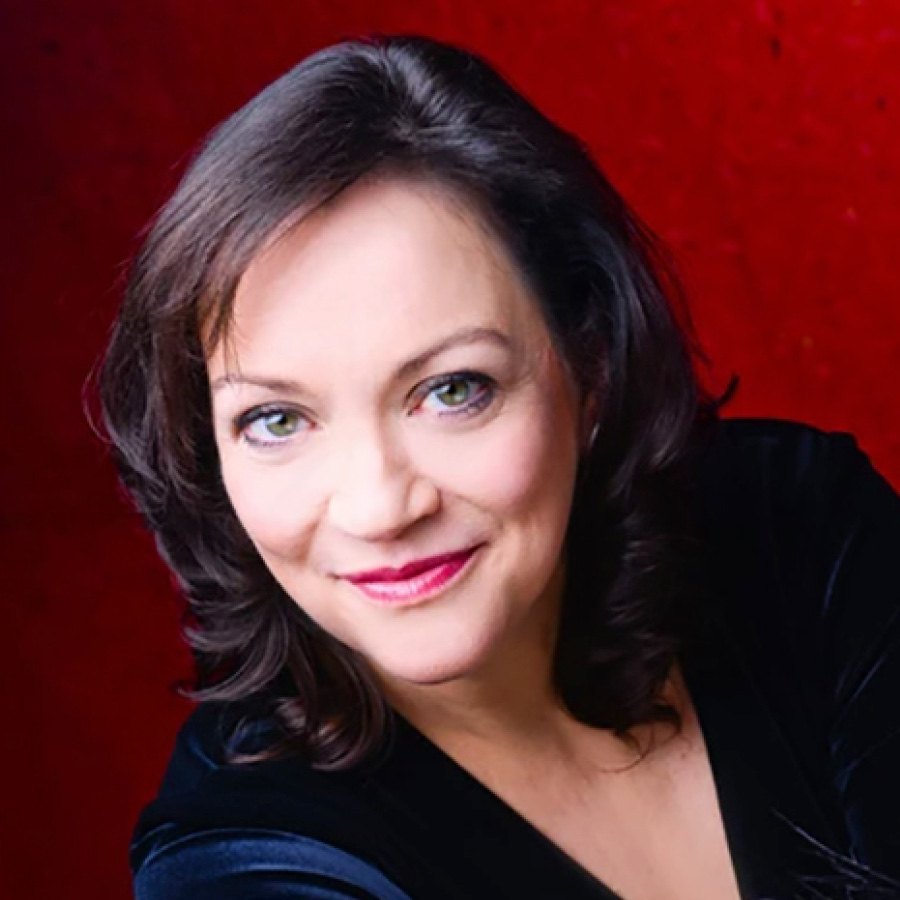 A First Timer's Guide
The Opera Experience
Operas on our mainstage are grand theatrical experiences. You can always expect the unexpected, and for our productions to be presented at the highest quality.
Supertitles
Many operas are in a foreign language. Supertitles are similar to subtitles in a film, except they are projected above the stage. These translations will help you follow what's happening on stage.
What to Wear
There is no dress code at The Opera and you will see everything from jeans to evening gowns and formal suits. Most people use it as a chance to enjoy dressing up in their own style.
Arriving in Good Time
If you are late, you will be escorted to the nearest late seating area. At intermission ushers will show you to your seat. Plan ahead to arrive with extra time.
Enhance Your Visit
Pre-Performance Talk
Learn about the history of the opera, the composer, and more from artists and opera aficionados. One hour prior to curtain. Free with your ticket!
Familiarizing Yourself with the Story
Because of the foreign languages, classical music, and often complex plots, you will very likely enjoy the performance better if you spend a few minutes familiarizing yourself with the story and characters in advance. Some people even like to listen to the music in advance and others prefer to let it wash over them during the show and perhaps look it up afterwards.
How is an Opera Staged?
Auditions
Actors first audition for roles up to a year in advance, or for more experienced artists, directors also invite them to play a role.
Rehearsals
Most of the rehearsals are held in our rehearsal hall, and not the actual theatre. The conductor begins orchestra rehearsals about a week and half before opening night. They have four rehearsals with the conductor, and then the singers are added into the mix.
Sets & Costumes
The Atlanta Opera Costume Shop alters the costumes to fit our singers. Sometimes they do have to make costumes if there aren't enough, or if there is nothing that fits, etc. Once the sets are in place, the cast begins rehearsing at the theatre. The Opera production staff works with staff at the theatre to get all of the lighting and technical aspects of the production together.
Sitzprobe & Dress Rehearsal
The orchestra comes together with the singers in a special rehearsal called sitzprobe. There are no costumes during the sitzprobe, this is mainly to hear the voices with the orchestra. There is a piano dress rehearsal, when the singers rehearse in full costume for the first time so they can get used to wearing them. Finally, all of the pieces are put together for two full dress rehearsals leading up to opening night.
Arthur Sullivan (1842-1900)
Born in London on May 13, 1842, Arthur Seymour Sullivan was a Child (choirboy) of the Chapel Royal. He was the first winner of the Mendelssohn Scholarship, which enabled him to study at the Royal Academy of Music and the Leipzig Conservatory. He returned to England in 1861 and a performance at the Crystal Palace the following year of his incidental music to Shakespeare's The Tempest made him an overnight celebrity.
Sullivan settled down to the life of a professional musician, teaching, playing the organ, editing and conducting, while at the same time broadening his activities as a composer. The 1860s saw a ballet, a 'cello concerto, a symphony, choral works, several overtures and a raft of chamber pieces, songs, partsongs and hymns. Sullivan's first comic opera came in 1866 when he set Francis Burnand's adaptation of John Maddison Morton's Box and Cox. Originally written for private performance, Cox and Box was so successful that public performances followed, as did a second collaboration with Burnand, The Contrabandista (1867).
Read more
Sullivan's reputation grew steadily, helped by the grand Festival Te Deum, written to celebrate the recovery of the Prince of Wales from typhoid in 1872 and the following year's massive oratorio The Light of the World. He first worked with W.S. Gilbert in 1871 on a Christmas pantomime, Thespis, which, although successful, did not lead anywhere. Sullivan and Gilbert were re-united in 1875 by Richard D'Oyly Carte for Trial by Jury, a one-act operetta which led to a more-or-less annual sequence of full-length pieces between 1877 and 1889. H.M.S. Pinafore (1878), The Pirates of Penzance (1879), Iolanthe (1882), The Mikado (1885), The Yeomen of the Guard (1888) and The Gondoliers (1889) have proved to be the most enduringly popular.
In the meantime, Sullivan cemented his position as the country's premier musician with the conductorship of the Leeds Musical Festival for whom he also wrote two major choral works,
The Martyr of Antioch (1880) and The Golden Legend (1886). He was knighted in 1883.
In 1891 his most ambitious work, the three-act romantic opera Ivanhoe, achieved the unprecedented success of a continuous run of 155 performances. A rift with Gilbert in 1890 led to collaborations with several other librettists during the '90s.
Towards the end of his life Sullivan had success with Victoria and Merrie England, a ballet for the Queen's diamond jubilee and The Absent-minded Beggar, a song for the Boer War wives and children's fund. He wrote a successful operetta, The Rose of Persia, to a libretto by Basil Hood and was working on a second Hood collaboration when he died on November 22, 1900.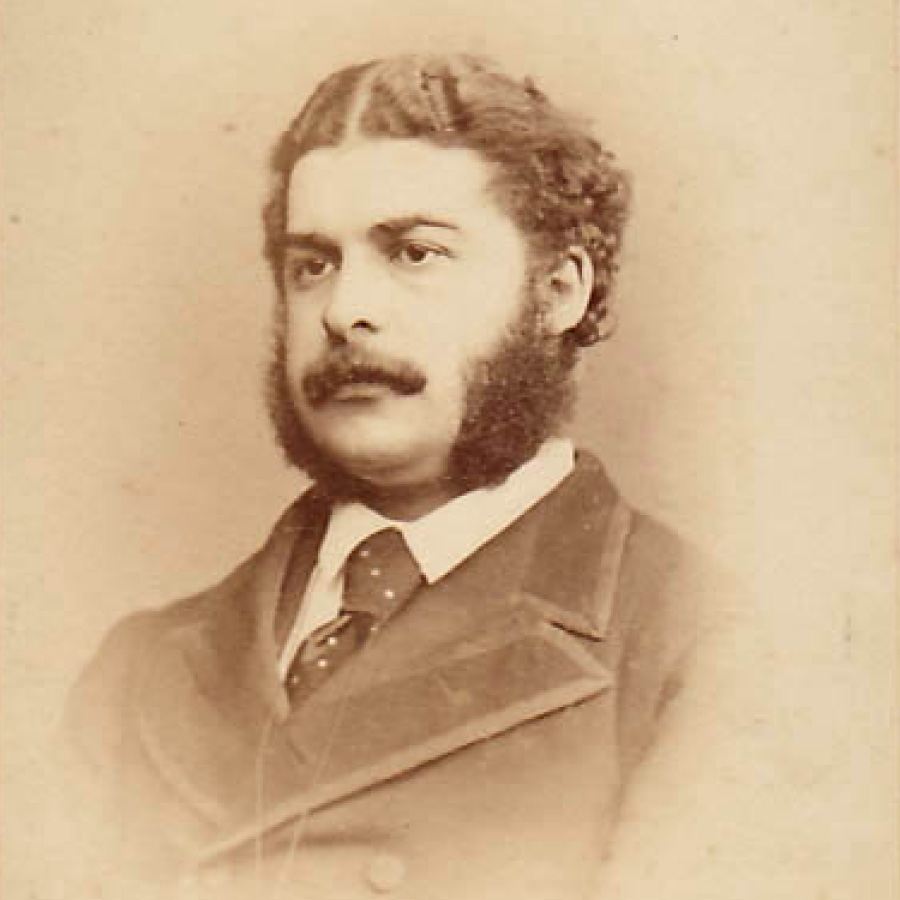 W.S. Gilbert (1836-1911)
Sir W.S. Gilbert, in full Sir William Schwenck Gilbert, (born November 18, 1836, London, England—died May 29, 1911, Harrow Weald, Middlesex, England), English playwright and humorist best known for his collaboration with Sir Arthur Sullivan in comic operas.
Gilbert began to write in an age of rhymed couplets, puns, and travesty; his early work exhibits the facetiousness common to writers of extravaganza. But he turned away from this style and developed a genuinely artful style burlesquing contemporary behaviour. Many of his original targets are no longer topical—Pre-Raphaelite aesthetes in Patience; women's education (Princess Ida); Victorian plays about Cornish pirates (The Pirates of Penzance); the long theatrical vogue of the "jolly jack tar" (H.M.S. Pinafore); bombastic melodrama (Ruddigore)—but Gilbert's burlesque is so good that it creates its own truth. As a librettist, Gilbert is outstanding not only because of his gift for handling words and casting them in musical shapes but also because through his words he offered the composer opportunities for burlesquing musical conventions.
Read more
Gilbert's early ambition was for a legal career, and a legacy in 1861 enabled him to leave the civil service to pursue it. He was called to the bar in November 1863. In 1861, however, he had begun to contribute comic verse to Fun, illustrated by himself and signed "Bab." These pieces were later collected as The Bab Ballads (1869), followed by More Bab Ballads (1873); the two collections, containing the germ of many of the later operas, were united in a volume with Songs of a Savoyard(1898).
Gilbert's dramatic career began when a playwright, Thomas William Robertson, recommended him as someone who could produce a bright Christmas piece in only two weeks. Gilbert promptly wrote Dulcamara; or, The Little Duck and the Great Quack, a commercial success, and other commissions followed.
In 1870 Gilbert met Sullivan, and they started working together the following year. Thespis; or, The Gods Grown Old (first performance 1871) and Trial by Jury (1875), a brilliant one-act piece, were followed by four productions staged by Richard D'Oyly Carte: The Sorcerer (1877), H.M.S. Pinafore(1878), The Pirates of Penzance (1879, New York; 1880, London), and Patience; or, Bunthorne's Bride(1881). Carte built the Savoy Theatre in 1881 for productions of the partners' work, and their works collectively became known as the "Savoy Operas"; they included Iolanthe; or, The Peer and the Peri(1882), Princess Ida; or, Castle Adamant (1884), The Mikado; or, The Town of Titipu (1885), Ruddigore; or, The Witch's Curse (1887), The Yeomen of the Guard (1888), and The Gondoliers (1889). By this time, however, relations between the partners had become strained, partly because Sullivan aimed higher than comic opera and because Gilbert was plagued by a jealous and petty nature when it came to financial matters. A rupture occurred, and the two were estranged until 1893, when they again collaborated, producing Utopia Limited and later The Grand Duke (1896).
Gilbert wrote several popular burlesques for the dramatic stage: Sweethearts (1874), Engaged (1877), and Rosencrantz and Guildenstern (1891). He also created librettos for other composers; the music for his last opera, Fallen Fairies; or, The Wicked World (1909), was by Edward German. His last play, The Hooligan, was performed in 1911. Gilbert, who was knighted in 1907, died of a heart attack brought on by rescuing a woman from drowning in a lake on his country estate.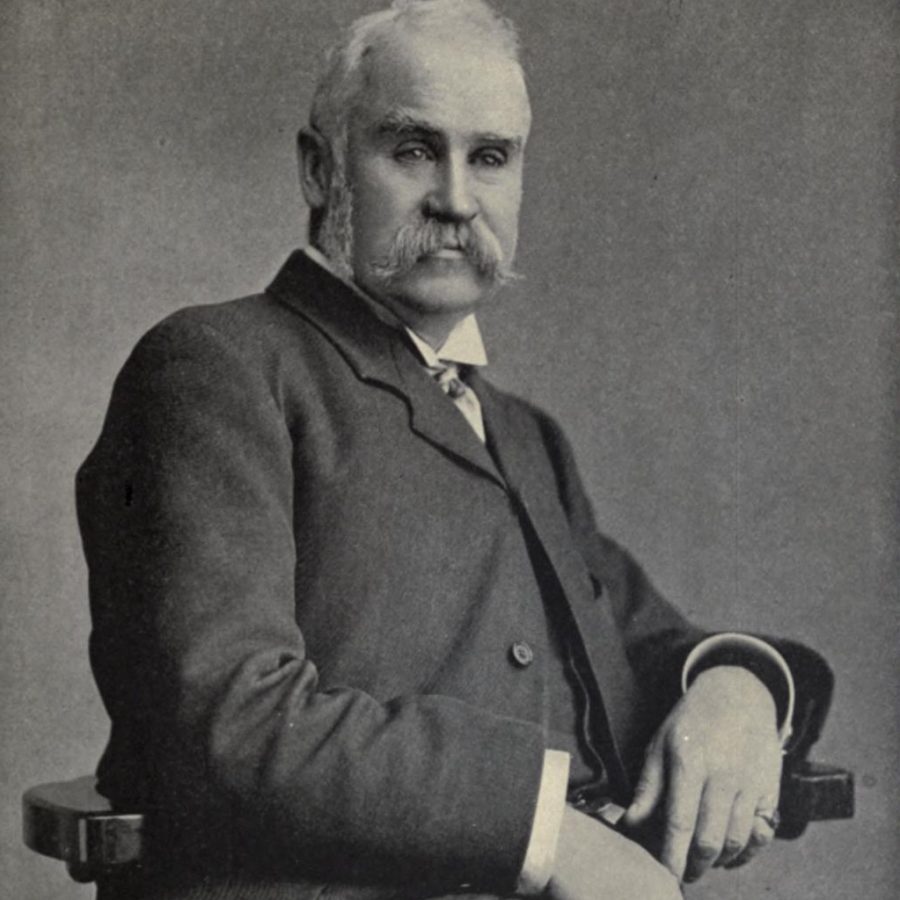 Francesco Milioto
A rising star in the younger generation of conductors, Francesco Milioto is forging a unique career as a versatile interpreter of both the operatic and orchestral repertoire. He is currently Music Director of OPERA San Antonio and Artistic Advisor to the Florentine Opera in Milwaukee. Mr. Milioto also enjoys guest conducting relationships with a wide variety of organizations, and cover/assistant conductor positions with several distinguished opera companies. Praised for his energy and integrity on the podium, the Chicago Tribune has said, "Milioto presided with Bernsteinesque bravura".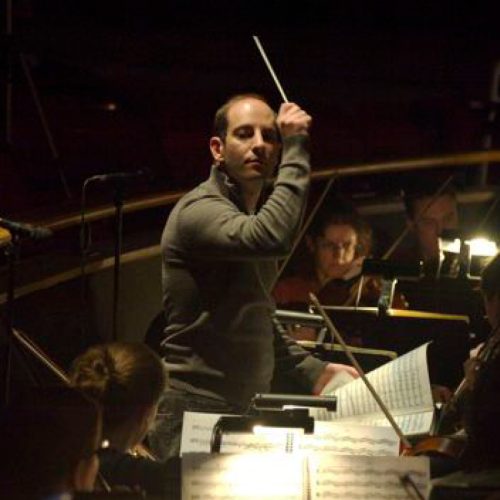 Seán Curran
Seán Curran began his dance training in traditional Irish step dancing as a young boy in Boston, Massachusetts. He went on to make his mark on the dance world as a leading dancer with the Bill T. Jones/Arnie Zane Dance Company, with whom he received a New York Dance and Performance ("Bessie") Award for his performance in Secret Pastures. Curran was an original member of the New York City cast of the Off-Broadway percussion extravaganza STOMP, performing in the show for four years. He has performed his solo evening of dances at venues throughout the United States as well as at Sweden's Danstation Theatre and France's EXIT Festival.
A graduate and faculty member of New York University's Tisch School of the Arts, Curran now serves as Chair of the Department of Dance. He has over 20 years of teaching experience in modern technique, improvisation, body percussion and composition as a visiting artist at the American Dance Festival, Harvard Summer Dance Center, Bates Dance Festival, Boston's Conservatory of Music, and over 100 U.S. university dance departments. Curran has created works for The Limon Dance Company, Trinity Irish Dance Company, ABT II, Denmark's Upper Cut Company, Sweden's Skänes Dance Theater, Irish Modern Dance Theatre, Ririe Woodbury Dance Theater, and Dance Alloy.
Read more
Notable commercial projects include productions of Salome for Opera Theatre of St. Louis, San Francisco Opera, and Opera Montreal; Much Ado About Nothing and A Midsummer Night's Dream for The Shakespeare Theater; the twentieth anniversary production of Nixon in China, as well as Street Scene, Daughter of the Regiment, and The Pirates of Penzance at Opera Theater of Saint Louis. Choreography credits include New York City Opera productions of L'Etoile, Alcina, Turandot, Haroun and the Sea of Stories, Capriccio, and Acis and Galetea; the Playwrights Horizons' production of My Life with Albertine; Shakespeare in the Park's As You Like It; and the Metropolitan Opera production of Romeo and Juliette. Curran's work has also appeared on Broadway in James Joyce's The Dead for Playwrights Horizons and The Rivals at Lincoln Center Theater.
Irish American Magazine selected Curran as one of its "Top 100." He has been awarded several Choreographer's Fellowships from the New York Foundation for the Arts, and the Seán Curran Company is a proud grantee of the National Endowment for the Arts. Happiest when making new work, Seán Curran hopes to continue to be an ambassador for the art of dance by building and educating the dance audiences of tomorrow.